A training on 'COVID-19 for Quarantine Centre Volunteers' was organised on Monday by BPMU Moreh, Tengnoupal district at primary health centre complex. The resource persons of the programme were, MO of the primary health centre, Dr A Arunkumar, MO of sub-district hospital and COVID Care Centre Moreh, Dr Cecil Ahongsangbam and MO in-charge of PHC Moreh, Dr Kh Santikumar. The programme was also taken part by leaders and volunteers from different CVOs and members from Indian Red Cross Society, Tengnoupal district. The resource persons spoke on the importance of wearing face masks and social distancing at public places and highlighted that wearing of face masks and social distancing can control 50 percent of the COVID-19 pandemic.
Advertisement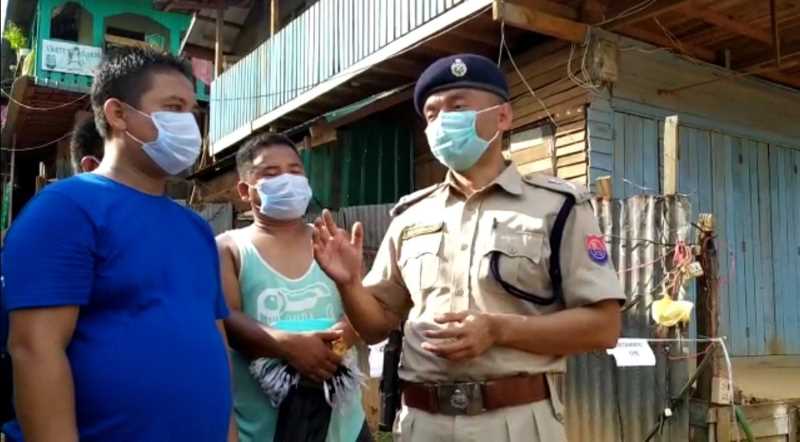 Face masks for people in Moreh containment zone
Advertisement
Superintendent of police of Tengnoupal district, Th Vikramjit has visited Moreh town and checked the essential measures taken up in the containment zones, concerning the recent detection of COVID-19 positive in Mission Veng. The SP interacted with the local leaders of Mission Veng and handed out face masks for distribution to the residents in the containment zones. He also urged the public to strictly follow the approved guidelines and SOPs. Recently, a resident of Mission Veng Moreh Ward no.2 was tested positive for COVID-19 at Imphal on September 4, following which the district administration declared Mission Veng as a containment zone. Consequently, screenings of COVID-19 were conducted to 13 persons including the family members of the COVID-19 positive person on Monday. Though the Rapid Antigen Test (RAT) results showed negative among all the 13 persons, the government's protocol on COVID-19 is yet to extend till the time of filing of this report. Chairman of Mission Veng, Thongsei Lhungdim, president of KSO Moreh block, Tinthang Haokip and a team of Moreh police led by OC, Dilip Kumar were present when the medical team from Moreh hospital conducted the COVID-19 screening in the containment zone.
Advertisement