A massive tree plantation drive spread over four days witnessed planting of tree saplings to contribute in conservation of the environment by the units of 9 Sector Assam Rifles and 26 Sector Assam Rifles under the aegis of HQ IGAR (South).
A Mega Tree Plantation Drive was organised at various Company Operating Bases and along the Indo Myanmar Border areas till Saturday, stated a release issued by IGAR (South). The tree saplings were planted in contribution towards the Home Affairs Ministry's initiative of Tree Plantation in 2020 and to contribute in preserving and promoting the environment, it stated.
Advertisement
Mantripukhri Battalion organised a tree sapling plantation at Mantripukhri Garrison, Koirengei and Yaingangpokpi Company Operating Bases. Keithelmanbi Battalion organised a similar drive at Andro, Lilong, Canchipur and Singjamei company operating bases, it added.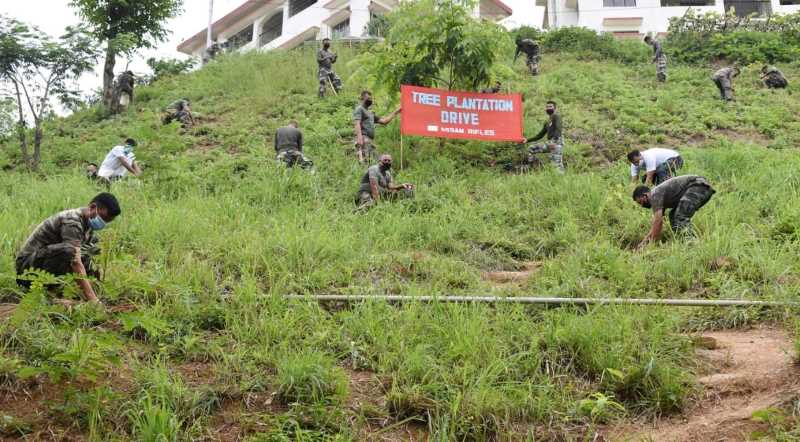 Similarly, Thoubal Battalion carried out a tree plantation in the Garrison and all Company Operating Bases. Tamenlong and Noney Battalions also contributed and organised plantation drives at respective Company Operating Bases, it stated.
It further stated that over 1,440 troops enthusiastically participated in the Mega Plantation drive and a total of 18,535 saplings of various varieties including fruit bearing trees were planted during the event. 
Advertisement
Likewise, Moreh Battalion also organised a tree plantation and conservation drive. The plantation drive was conducted to foster a culture of responsibility towards nature among kids, local population and troops of Assam Rifles.
A total of 5,000 saplings of various varieties were planted by kids, local population and troops at their locations of deployment, JJ Children Home, Integrated Check Post and Adullam Rehab Center. The drive has spread a sense of responsibility and care towards nature among all participants, it added. 
Advertisement