Providing white collar job to every youth not possible, says Manipur CM
N Biren Singh said that the BJP-led coalition government in Manipur has taken up the welfare schemes and policies for youths.
---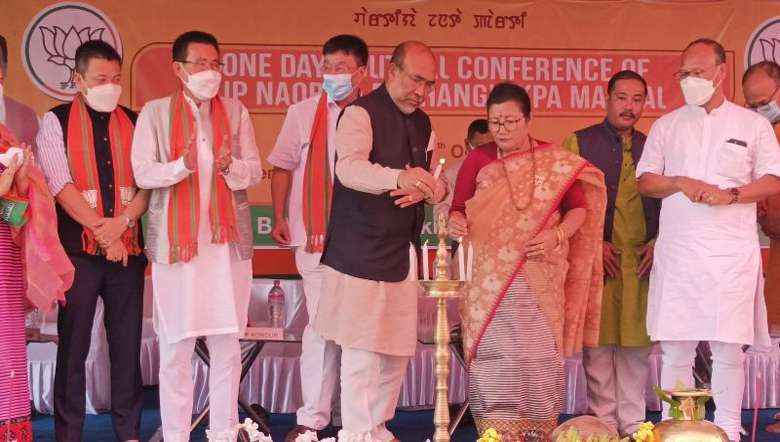 (PHOTO: IFP)
---
Manipur Chief Minister N Biren Singh said that every government will not be able to provide white collar jobs to educated youths, however, for welfare of the youths, the present BJP-led coalition government introduced various welfare schemes and policies including start-up, stand-up and others.
The chief minister was speaking at a one-day political meeting held at Lourembam Leikai ground on Sunday, organised by intending candidate of Naoriya Pakhanglakpa assembly constituency under the aegis of BJP Naoriya Pakhanglakpa Mandal.
Attending the meeting, CM Biren says that it will not be possible for any government to provide white collar jobs for each educated youth. In Manipur, many educated youths are jobless but to provide necessary financial assistance for skilled unemployed educated youths, the present government took up the welfare schemes and policies for youths. With the financial schemes, many youths have utilised their skills and potentials and earned even more than any government employee, he added.
The CM further said that the present government has started a free health monitoring programme and it has covered about 64 villages till date. During the said programme, health check up will be done and medicines will also be provided free of cost.
The government has also been focusing on preserving the arts and culture of Manipur. Apart from other welfare activities, rearing of fishes has been increasing in the state and fishery department has also started rearing Meitei Sareng (Wallago Attu) and by Ningol chakouba festival the fish will be made available, he added.
In the last four and half years, the government has brought many developmental changes and people should be cautious against those politicians and representatives who are trying to create divide and rule policy among each other, said Biren.
First Published:
Oct. 25, 2021, 1:31 a.m.