Despite the ban imposed by the state government on the use of plastic carry bags of less than 50 micron in thickness since 2018, widespread use of the banned plastic bags is seen everywhere in Manipur. People's dependency or the demand for plastic carry bags is high in the state, perhaps due to ignorance or lack of action against its use by the concerned authorities or due to lack of dissemination of public information about its harmful consequences.
As the demand for single use plastic bags by customers to carry purchased goods is high, vendors and shopkeepers told the Imphal Free Press that the government should arrange alternative means to ensure the ban on it. They opine that if the government supplies an alternative to plastic carry bags, people will not violate the ban. They are also of the view that if the government is really concerned, it should first ban import of single use plastic bags.
Speaking exclusively to the Imphal Free Press, experts are of the view that the ban should be strictly enforced and the public made to understand the meaning of single-use plastic bags, while government officials say they are working towards a permanent solution to the issue.
Also Read: Lack of action and awareness about PUCC causing rise in air pollution in Imphal valley
Vegetable and fruit sellers on the side of Porompat DC road said they are aware of the state government ban, but there is nothing they can do about it because customers demand polythene bags to carry the purchased goods.
Abethoi, a 52-year-old vegetable vendor from Khurai at Lamlong market said the authorities would sometimes carry out raids at Ima keithel, Khwairamband market, where she used to sell clothes before. During the raids, they would seize polythene bags but things would return to normalcy within a few hours and business would resume, she said.
Also Read: Manipur PDS website remains non functional for lodging grievances
"Due to the pandemic, the prices of single-use plastic bags have increased … but people are still using plastic bags against the government order due to the convenience of carrying things in them. If the state government or authorities provide alternative means to carry their things, the people will not keep breaking the rules," she added.
However, many local shop owners in various places in urban areas of Imphal say the use of plastic bags, be it less than 50 micron or more, may not stop. They say that the demand for polythene bags by customers is so high that no shop owner is able to refuse it. They assured that if the government or authorities are banning polythene after producing an alternative, then they will prefer not to use polythene bags.
Also Read: Insect infestation wreaks havoc in Manipur's Willong village
The demand is so high that the prices of plastic bags per kilogram have increased. Before the COVID-19 pandemic, the prices of single use plastic bags per kilogram ranged from Rs 90 to Rs 100. Now, the prices have increased to Rs 140-150 per kilogram.
One grocery shop owner named Mustakim from Imphal East says that per day a minimum three kg of single use plastic bags are used by customers. It means he spends Rs 420-450 on plastic bags per day, annually he spends Rs 5,040. But the main concern is the huge amount of plastic bags used in the state, and whether these bags are recycled or simply thrown away.
Pointing out that seizing of plastic bags will not stop their rampant use, he said that if the authorities are really concerned about it, then it should first ban the importing of plastic bags into the state. "It is not the common folks who are importing these plastic bags but it is those sellers at Thangal bazaar," he mentioned.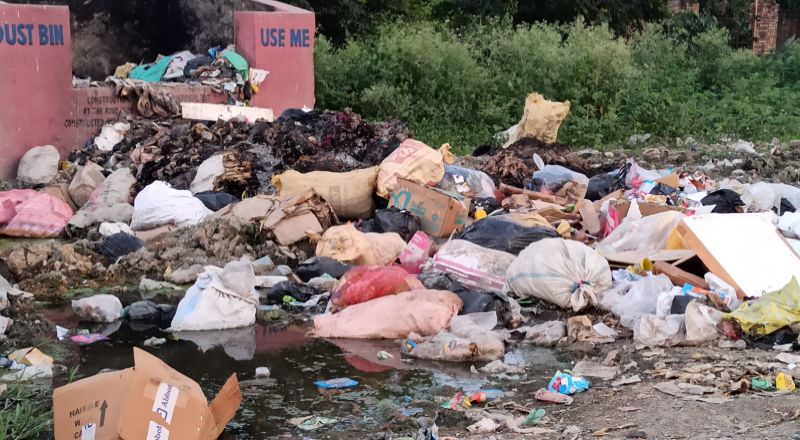 (PHOTO: IFP)