Growing numbers of fruits and vegetables sellers are becoming a common sight in every street in and around Imphal valley and other parts of Manipur today. Struggling to survive amid the Covid -19 pandemic, thousands of labourers, small traders, housewives and women vendors, who once operated at market places, are now making a living by selling seasonal vegetables and fruits by the roadside in every locality.
As Ima Keithel (Only women market) at Khwairamband, Imphal and other parts of the state remained closed to help contain the pandemic, seasonal vegetables sellers in residential areas have come to the rescue of hundreds of people in Manipur. Despite the loss of livelihoods and jobs caused by the closure of market places and imposition of curfew and lockdown in the state, several survived by turning to selling vegetables and fruits for local consumption.
"After the lockdown and curfew imposed by the state government, we stayed in our homes for over a month. But there was no way we could survive without earning daily, and the only option available was selling vegetables and fruits," said one Hesamuddin Shah, a 46-year-old auto driver from Porompat, Imphal East.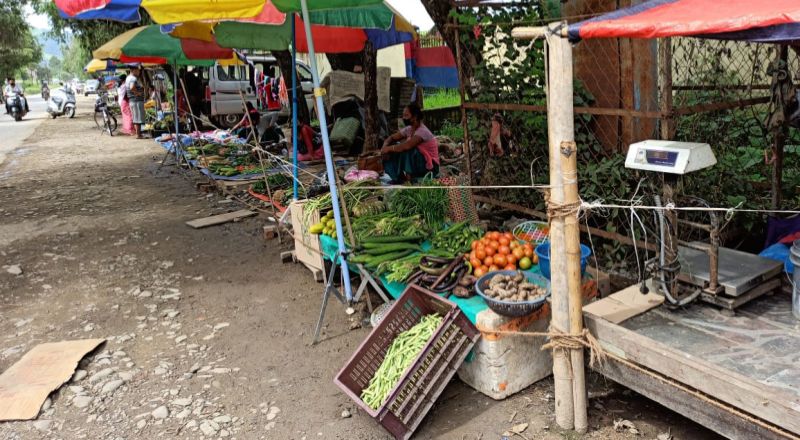 (PHOTO: IFP)
For about six years, Hesamuddin had been driving an auto-rickshaw for a living. Hit hard by the pandemic and the lockdown, he and his wife started selling vegetables to support the family.
Not only auto drivers, other domestic helpers, construction workers and others in the informal sector found themselves unemployed during the pandemic. The statewide lockdown brought most economic activities to a standstill. However, there were no restrictions on selling vegetables besides essential items, including milk, medicines and groceries.
In local streets, some shops that used to sell clothes and accessories now sell vegetables. Wholesale grocery shops too have started selling vegetables and fruits.