Six drugs smugglers, including a woman, have been arrested with opium and WY tablets from their possessions in two separate incidents in Imphal West and Thoubal districts of Manipur on Saturday, police sources said.
The arrests and seizures of drugs were made as a part of the 'war on drugs' and during a search operation conducted as a part of preventive security measures ahead of India's Independence Day, August 15.
In one incident, the Imphal West police team arrested three drug smugglers and seized drugs, opium (kaani) weighing 25.279 kg early Saturday.
The three drug smugglers have been identified as one Jangminlen Vaiphei, 35, son of late Thangtilal Vaiphei of Motbung Bazaar; Mangsat Haokip, 49, son of late Thanglei Haokip of Motbung and Nemneilhing Thouthang, 32, wife of Jangthang Touthang of KS Lhangnom village. All the drug smugglers were from Kangpokpi district, the police said.
Advertisement
The police said a team of district police narcotics cell led by sub-inspector M Sunzu Luwang under the command of officer-in-charge, narcotics cell, Imphal West, L Bikramjit Singh and under the supervision of superintendent of police, Imphal West, S Ibomcha Singh conducted frisking and checking of the passers-by along Tiddim road at about 3 am.
During the operation one SUV (Duster) grey in colour bearing registration number MN02G-1282 were detained for checking which was coming from Churachandpur towards Imphal near Bir Tikendrajit International Airport, Changangei, Imphal West, the police said.
On examination and verification of the three occupants inside the vehicle in the presence of executive magistrate and civil witnesses, 26 plastic packets suspected to be containing contraband drugs i.e. opium (Kaani) overall weighing about 25.279 kilogram were detected.
A case has been registered and the arrested persons along with the seizures have been handed over to Lamphel police station for further investigations.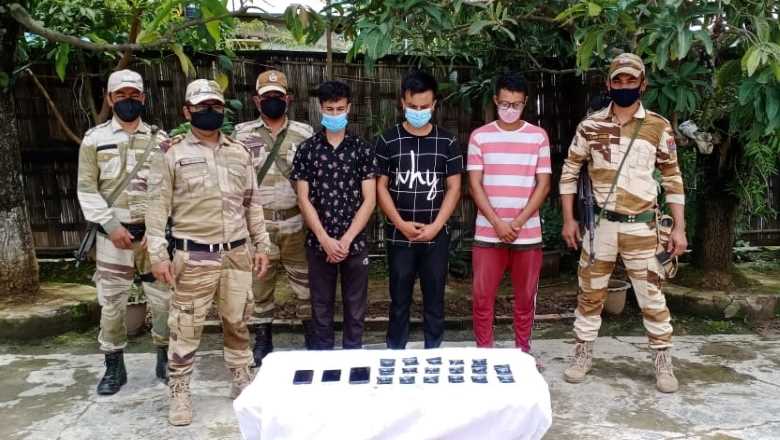 (PHOTO: IFP)
Yet another three drugs peddlers were arrested and 3,400 suspected WY tablets seized from their possession by a Thoubal district police team early Saturday, while conducting frisking and checking at Lilong Arapti bridge in the  district, Thoubal police sources said.
Advertisement
Acting on a tipoff on transportation of illegal drugs in Lilong area, a combined team of district commando, a team of narcotics cell, Imphal East and members of Youth Athletic Development Association (YADA) conducted frisking and checking at Lilong Arapati bridge at around 4.30 am Saturday, the police said.
While conducting frisking and checking of a black four wheeler (Tata Safari Storm) bearing registration number MN01S 1982 was seen coming towards the frisking point from Lilong in a suspicious manner. The police team stopped the vehicle with three occupants for verification, the police said.
The police also said that the three occupants identified themselves as one Md Farish Khan, 24, son of one Md Seraj Khan of Moijing Awang Kangjeibung; Washim Khan, 24, son of Feij Ahamed of Lilong Sambrukhong and Md Yunush Ali, 25, son of Md Yakub Ali of Liloong Leihaokhong Makok.
The police said that on further search of the vehicle, the police team detected one black colour polythene containing 3,400 tablets suspected to be WY tablets. The three persons were arrested and the suspected drugs were seized on the spot by observing formalities.
A case has been registered at Lilong police station and the arrested persons along with the seizures have been handed over to same police station for further legal action, the police said.
The whole operation was led by officer-in-charge, district commando, N Tikendra Meetei under the command of additional superintendent of police, commando, Sachidananda Singh and under the overall supervision of superintendent of police, Thoubal district, Jogeshchandra Haobijam.
Advertisement