The body of the man who jumped into Imphal River while trying to flee from the police patrol amid the curfew imposed in the state was fished out near Sanjenthong bridge in Imphal by a rescue team on Tuesday, police sources said.
According to the police, the deceased has been identified as one Md Fariz Khan, 26-year-old son of one Md Islammudin of Sangaiyumpham, staying at a rented house located at KR Lane.
Fariz, who was playing football with his friends, jumped into the Imphal river when a police patrolling car approached the area in a crackdown on curfew violators in Imphal East district on Sunday, the police said.
Advertisement
The man went missing since the day he jumped into the river and a combined team of the State Disaster Response Force (SDRF) and the National Disaster Response Force (NDRF) along with the Porompat police station had been searching along the stretch of Imphal River, police said.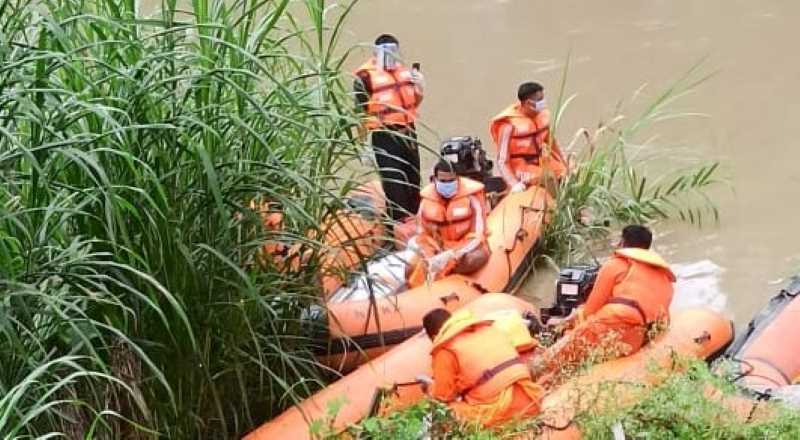 The combined search team recovered the body of Fariz from the Imphal River near Sanjenthong bridge at around 11 am, Superintendent of Police, Imphal East, N Herojit told mediapersons during a press conference on Tuesday.
Herojit said the police had frequently warned curfew violators in the area as some people of KR Lane, who were often seen playing football in the playground of the area, used to jump into Imphal River and crossed the other side of the river towards Kangla eastern side.
Advertisement
Similar patrol was conducted on Sunday and the people, including Fariz were playing at a ground located at KR Lane near the river bank. When they saw the patrol car approaching, they jumped into the river and as usual they crossed the river.  But a report was received at about 6 pm at Porompat police station that one of the curfew violators who jumped into the river was missing. Since then the combined team had been searching for the body day and night, he added.
He said it is unfortunate that Fariz drowned in Imphal river due to the high current and high water level but playing football during curfew time is violation of curfew.
Herojit said when the police team tried to recover the body for post mortem some of the locals of the area tried to stop the police team from taking the body. He appealed to the people to cooperate as police team are also putting effort day and night to find the missing person.
Acting against the police who are doing their duty is against the law and necessary actions will be taken against any person who is found against the law, he added.
Advertisement