A husband and wife, who were alleged of selling drugs at their home, were apprehended by a combined force of police teams which raided their house at Lilong Tharaorok in Manipur on Monday.
A combined team of Thoubal commando led by OC-CDO Thoubal, inspector N Tikendra Meetei and a team from Lilong Police Station including women police personnel along with a column of 16th AR conducted a search operation at the residence of Md Makakmayum Wahid, 25, son of Md Makakmayum Manah of Lilong Tharaorok on Monday afternoon, police said.
The combined team cordoned the house and conducted a thorough search operation of the house, during which the police found eight soap cases and 28 plastic packets containing suspected Heroin Brown Sugar; a sum of Rs 1,82,000 reportedly proceeds of illegal sales of drugs; a Samsung mobile phone along with SIM card; a silver-coloured Maruti Alto car silver bearing registration number WB66G/9214; a red-coloured leather lady hand bag; and a small trunk box belonging to Md. Makakmayum and his wife, Nashima.
Advertisement
Following it, the couple were arrested from their house and the above mentioned items were seized from their possession by observing formalities. The arrested couple along with the seized items have been handed over to Lilong Police Station for further necessary legal action, police added.
Drug traffickers held in Tengnoupal district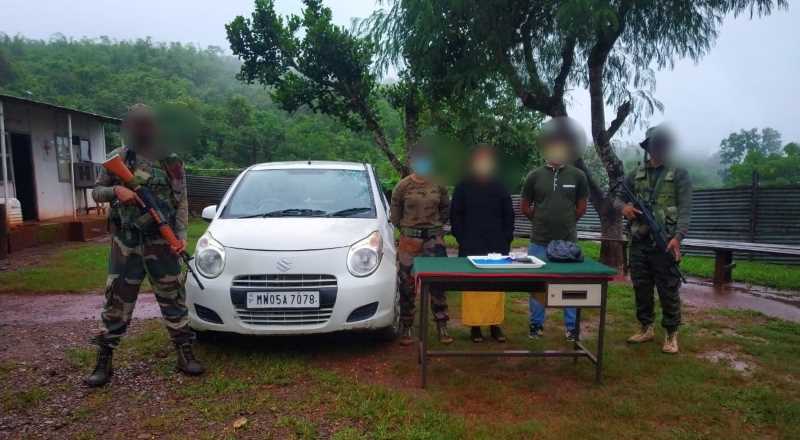 Meanwhile, Tengnoupal Battalion of Assam Rifles apprehended drug traffickers while drugs worth around Rs 20 lakh were seized from their possession at Permanent Vehicle Check Post (PVCP), Khudengthabi on Sunday, IGAR (South) stated in a release.
Advertisement
During routine checking at the check post, AR troops found 20 packets of WY tablets concealed in the handbag of the female passenger and inside a modified compartment of a vehicle.
The drug traffickers were apprehended and the narcotics weighing approximately 419 grams and estimated to be worth Rs 20 lakh were seized, it stated. The apprehended drug traffickers along with the seized narcotics and vehicle have been handed over to Moreh Police for further investigations, it added.
Advertisement