The installation work of the oxygen plant at Ukhrul District Hospital will begin on Wednesday, official sources said.
Materials required for setting up the much-needed oxygen plant reached district hospital Ukhrul on Tuesday, the sources said, adding that the inspection of the site for setting up an oxygen plant at the district hospital area was conducted on May 18.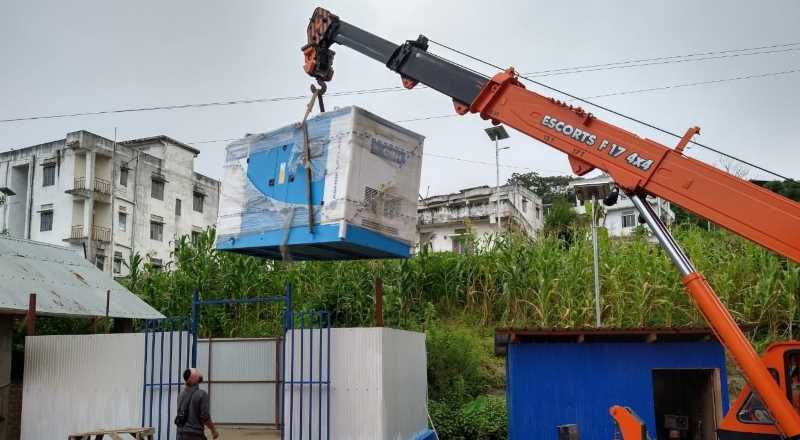 Advertisement
The oxygen plant would be constructed under the 15th Finance Commission sanctioned to six ADCs of the state.
Earlier on May 29, district deputy commissioner Joseph Pauline, who was accompanied by the medical superintendent of Ukhrul, CEO of ADC Ukhrul, SDO Chingai and consultants from Guwahati had also inspected the oxygen generation plant for smooth undertaking of the plant.
On Tuesday, 10 more people were tested positive for COVID-19, taking the total active caseload from 77 to 82.
The cumulative positive cases in the district now stands at 880, of which 523 are males and 357 females while the cumulative death toll remained 22.
Advertisement
Meanwhile, the district magistrate Ukhrul has extended curfew for another seven days in the whole areas within the revenue district of Ukhrul.
The order has restricted movement of any person outside their respective residences while allowing additional activities, including inclusion of vegetables, fish, meat and grocery items for home delivery in e-commerce allowed earlier.
It also allowed home delivery of cooked food by authorised delivery staff.  The curfew would come into immediate effect from July 28 till August 3.
(The Imphal Free Press is now on Telegram. Join IFP News Update Group and stay updated with the latest news and impact stories)
Advertisement