Strict enforcement of total curfew was witnessed for the second day with police personnel patrolling the streets amid heavy downpour in several parts of Manipur on Monday.
A 10-day total curfew is being imposed in the state beginning July 18 to July 27 as a part of the stringent measures taken up by the state government to combat the unrelenting second wave of the Covid-19 pandemic in the state more effectively.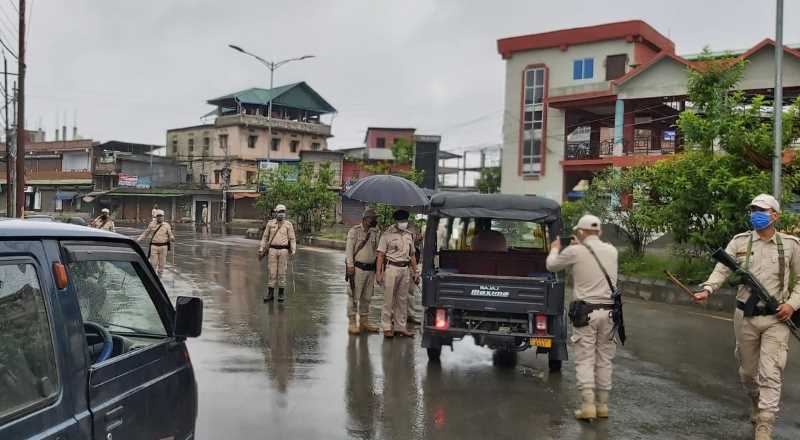 (Total curfew in Imphal West on July 19, 2021, 8:15 am | PHOTO IFP)
In Imphal West, amid the heavy rainfall, markets and shops continued to keep their shutters down. Roads remained empty with just the police personnel on curfew duty and only a few permitted vehicles plying. No curfew violators were found, sources said.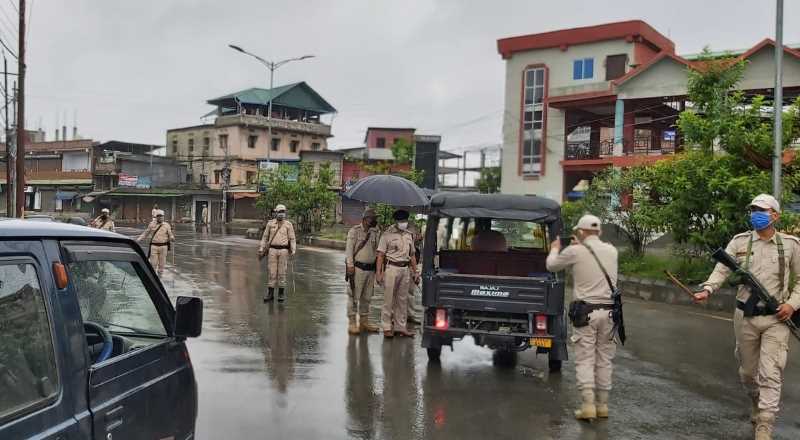 (Curfew in Imphal West on July 19, 2021, 8:15 am | Photo: IFP)
On the first day of the total curfew in the state, Sunday, all districts reported strict imposition of restrictions. All establishments, shops and markets remained closed and normal life was brought to a grinding halt.
Advertisement
The state government issued the total curfew order on July 16, stating that the number of COVID-19 positive cases continued to be very high relative to the population and is a cause of concern and warrants stringent measures to check the spread of the infection across the state.
The order was signed by chief secretary of state, who is also chairman of state executive committee of the state disaster management authority, Rajesh Kumar.
The order further stated that essential and key departments of the government will continue to function with minimal staff considered by the administrative secretary/head with emphasis on e-office/work from home.
Essential services exempted from the purview of the curfew includes:
1. Services or activities related to vaccination, COVID-19 testing, medical service (hospital, clinics/ pharmacies)
2. Essential services such as water supply, power supply, police, telecom/internet services, air travel, agriculture/horticulture, garbage clearance, petrol pumps, LPG distributor and goods truck.
Meanwhile, the Joint Committee on COVID-19 appealed to the people of the state to support the steps taken by the state government to contain the spread of the disease.
Advertisement
Addressing the media in a video release on July 17, a member of the Joint Committee on COVID-19 , Jeetendra Ningomba said the situation is worsening with an increase in the percentage of COVID-19 positive cases and the mortality rate is yet to reduce.
"To control the pandemic, there is a strong need for cooperation from every section of the society. Experts from various countries have expressed their opinion to maintain strict COVID-19 SOPs and get vaccinated at the earliest to defeat this war-like situation," he said.
Also Read:
10-day total curfew in entire Manipur
Read More News from Manipur
(The Imphal Free Press is now on Telegram. Join IFP News Update Group and stay updated with the latest news and impact stories)
Advertisement