The Manipur Pradesh Congress Committee joined the Indian National Congress' nationwide protest against hike in prices of petrol and diesel prices on Friday.
MPCC members, including its president Govindas Konthoujam, leader of Congress Legislature Party Okram Ibobi Singh, member of Congress Working Committee Gaikhangam and other members of MPCC staged a sit in protest at the Congress Bhavan, Imphal.
The MPCC said that protest were also staged at Changangei Oil Depot and Pangel Oil Pump.
Advertisement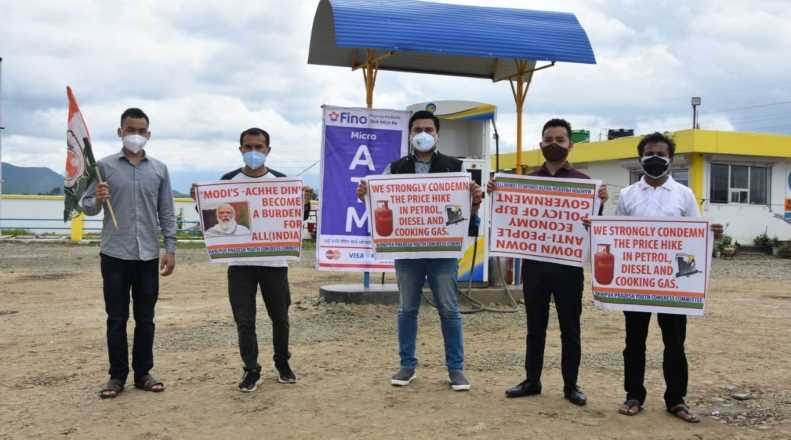 MPCC general secretary Hareshwar Goshwami notified on Thursday that the All Indian Congress Committee had decided to hold a nationwide symbollic protest in front of petrol pumps across the country  over the unprecendented rise in the prices of petrol and diesel.
Meanwhile, in Imphal, amid the second wave of the pandemic, petrol price nears the century mark.
As most of the commercial vehicles are run by diesel, prices of essential commodities is likely to soar under high transportation charges.
The current price of petrol in Imphal is Rs 99.57 per litre, diesel Rs 90.25 litre and Rs 732 per 14.2 for cooking gas.
Advertisement
The price of petrol and diesel are recorded to be the highest in the state so far. In the last one month, the prices of petrol and diesel were recorded at Rs 94.4 and Rs 84.44 per litre respectively.
According to official data, 'current Imphal fuel price is taken from Hindustan Petroleum Corporation Limited and Indian Oil Corporation Limited.'
Besides as compared with the price hike in petrol and diesel, price of 14.2 kg LPG gas has been reduced to Rs 732 which was marked Rs 894.5 in the last one month.
Earlier on Tuesday last, Minister of Petroleum and Natural Gas and Minister of Steel, Dhamendra Pradhan tweeted: "India is taking a balanced approach to ensure climate and energy justice. We are committed to provide more energy with fewer carbon emissions. Inauguration of 201 CNG stations and PNG supply in the historic city of Jhansi is reflective of this commitment."
Advertisement