A massive wildfire that has been raging in the forests of Lunglei in Mizoram since Saturday is fast spreading to town areas and other parts of the state, sources said on Sunday.
The wildfire was rapidly spreading towards Chandmary in Lawngtlai district in southern part of the state, according to reports.
Advertisement
As the locals, district authorities and fire fighters struggle to control the wildfire from spreading further, the Indian Air Force is deploying two Mi-17V5 helicopters, equipped with Bambi Bucket, to douse the fire in Lunglei district and adjoining areas.
The Mizoram government sought the Centre's help and had requisitioned the IAF helicopters to douse the fire.
The reason for the wildfire is yet to be ascertained, but it is suspected that burning of a part of the forest for Jhum cultivation during the dry and windy season may have led to the spread of the massive forest fire. However, no major injuries or casualties have been reported so far, the sources said.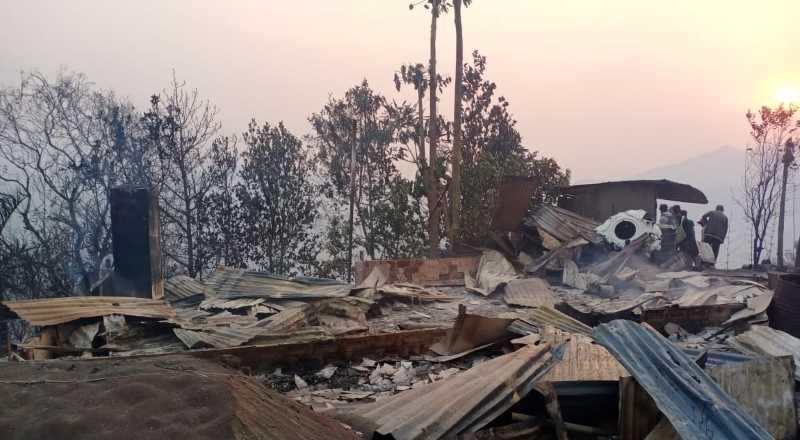 Advertisement
Calling for people to pray for Mizoram, state Chief Minister Zoramthanga posted on Twitter that wildfires have razed several settlements in different parts of the state.  
"Numerous wildfires in different parts of Mizoram razed several settlements across the states. No casualties reported as of the moment. Keep us in your prayers!
Expressing concern and solidarity, Manipur Chief Minister N Biren Singh took to Twitter and said he was saddened to see the inferno over Lunglei district.
"Saddened to see the wildfire at Lunglei District in Mizoram. My prayers goes out to the people of Mizoram for this devastating loss amidst the pandemic. I believe the situation will be brought under control soon under Hon'ble CM @ZoramthangaCM Ji's supervision," Biren tweeted.
Advertisement