Manipur Chief Minister N Biren Singh on Khongjom Day 2021 led the people of the state in paying homage to the martyrs who laid down their lives in the Battle of Khongjom (1891).
The chief minister led the ministers, MLAs, top ranking police and civil officers and others in offering floral tributes to the martyrs at the Khongjom War Memorial atop Khebaching.
Floral tributes were also paid to the statue of Paona Brajabashi located at the foothill of Khebaching before they offered Tarpan at Khongjom River.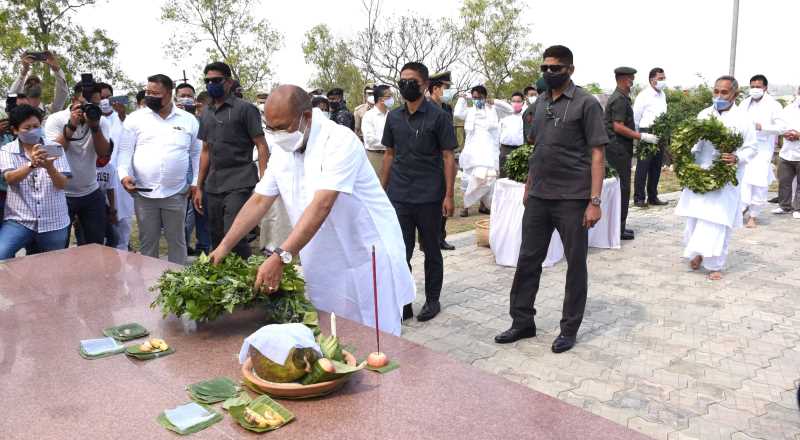 (PHOTO: IFP)
A contingent of Manipur Rifles sounded the last post and a two minutes silence was observed in honour of the martyrs.
Advertisement
On the occasion, Biren called upon the people of the state to follow the footsteps of the forefathers with a sense of nationalism and work hard together by maintaining unity among different communities for bringing overall development in the state.
The day was observed in a low-key celebration with a small group of delegates due to the outbreak of the second wave of COVID-19 pandemic. 
The district administration, Thoubal ensured that social distancing was maintained during the gathering to avoid COVID-19 infections.
Meanwhile, Manipur People's Party (MPP) observed Khongjom Day at its office near Polo Ground, Imphal on Friday, remembering the martyrs of the state who laid down their lives in Anglo-Manipuri war 1891.
A release by general secretary (Administration) of MPP, H Gitajen said that the day was observed by paying floral tributes to the portrait of Paona Brajabashi by the members of MPP. Later, they also paid their tribute to Paona Brajabashi at Khebaching, Khongjom.
The programme was organised so that the coming generation know the sacrifice made by the forefathers of the state, it added.
Advertisement
Iramdam Meeyamgi Apunba Khorjei Lup (IMAKHOL) also observed Khongjom Day for the second time at its office at Awang Potsangbam Khunou under the theme 'Khongjom Lan Ningsing Thouram amasung Khongjom Lan Seitha Seireng gi Khongjel'.
At Jiribam, Pari Puri Athouba Ningshing Lup (PPANL) observed Khongjom Day on Friday by organising a simple programme.
During the programme, chairman of PPANL, S Arunkumar Singh led the offering of Tarpan to Thangal General and paid floral tributes to the martyrs of Khongjom War.
Click Here to Read More News from Manipur
ALSO READ:
Advertisement