Manipur Panchayat Parishad on Friday held a sit-in protest at Porompat in Imphal East District, demanding the release of funds under the Mahatma Gandhi National Rural Employment Guarantee Act (MGNREGS).
Panchayat functionaries from six districts of the state protested against the non-release of funds under the 15th Finance Commission Award (2nd installments) and demanded their honorarium from October 2019 to March 2021.  
Imphal East Adhakshya P Bimola Devi told mediapersons that the Panchayat functionaries taking part in the protest are from Imphal East, Imphal West, Thoubal, Bishnupur, Kakching and Jiribam districts.
Advertisement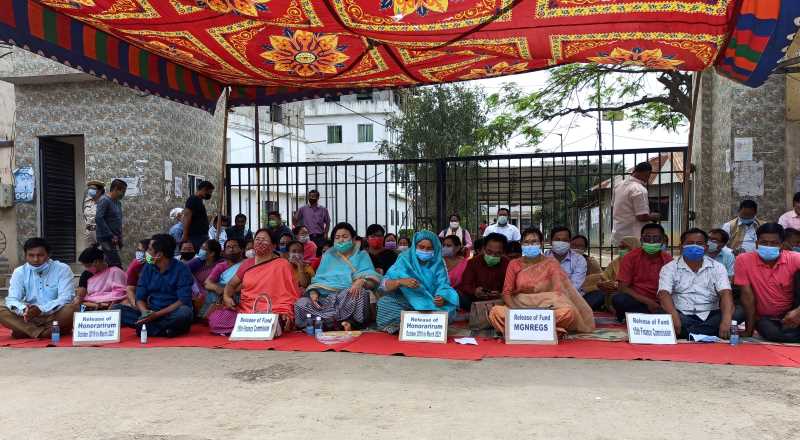 The protest was carried out following a joint meeting of the panchayat Parishad held on April 6.
Works under MGNREGS of 2021 started in every district but the funds are yet to be released, Bimola Devi said, adding that 64-65 per cent average works of 2021 have been done in liabilities.
Bimola said 40 days of work have been done without receiving the funds. Although the government of India had released Rs 485.80 crore on March 19 this year, the state government has not released the funds despite the panchayat functionaries urging the finance department as well, she added. 
Advertisement
She also mentioned that the money released for 2019-20 had been used for the year 2021 due to the partial release of money by the state government.
On the process of sending the Utilisation Certificate (UC) which has to be sent when 60 per cent of the union government funds were released, she said they were unable to send the UC due to the non-release of 60 per cent of the funds.
Bimola Devi continued that job cardholders are also demanding their wages, and panchayat functionaries are facing pressure from job card holders who have no information that the funds are not being released yet.  
Not only the funds, the honorariums of panchayat functionaries are also pending since October 2019, she said. Therefore, panchayat functionaries from six districts including 161 pradhans, 60 Zilla Parishads, and members are conducting the sit-in-protest, she said, adding that they will intensify the protest if the funds are not released.
Advertisement