Napsa Kha Imphal will test their strength and wits against LCCC Chajing team in the final of the 5th T-Subol Memorial T-20 Veteran Cricket Tournament 2021 on Saturday at Model Higher Secondary and Oriental College Ground.
In the first semi final match, Napsa Kha Imphal were pitied against YWC Langthabal at Model and Oriental Ground, where the latter took to the crease after winning the toss. Napsa Kha Imphal later on went on to win the match by four wickets.

YWC Langthabal rode on Jodiba hurricane effort of 49 runs from 34 deliveries and Shashi who made an unbeaten 22 runs to put up 152 runs for 5 wickets from 20 overs. Manaobi and Alai got an identical 18 runs. Napsa bowler Keshojit and Ratankumar fetched 2 wickets each.

In reply, I Ibobi with 54 runs and Simon who made 38 runs led the charge for Napsa team to reach the target in 19.5 overs for 6 wickets for the victory. Ratan remained not out with 22 runs. YWC bowler Rajeshkumar picked up 2 wickets while Priyokumar took 1 wicket. Ibobi Singh was later declared the Man of the Match.
Advertisement
As for the second semi final at Langthabal Ground, LCCC Chajing beat Model Club by 6 wickets. Model Club made 102 runs from 20 overs for the loss of 8 wickets with Majibur Rahaman hitting 40 runs. LCCC bowler Ashok and Krishna claimed 2 wickets each while Jiten and Sanjit fetched 1 wicket.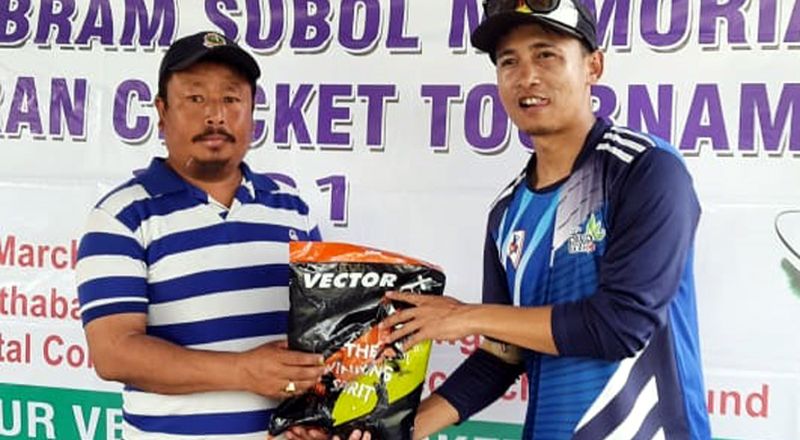 Advertisement
Man of the Match Sheitajit Singh of LCCC (PHOTO: IFP)

LCCC reached the target in 14 overs for the loss of 4 wickets with Sheitajit Singh hitting 26 runs, where he was later adjudged as Man of the Match, while Sanjit contributed 25 runs. Model bowler Sharatchandra and Iqbal took 1 wicket each. 
Advertisement