People in urban areas of Imphal valley may face drinking water crisis in the next one month if annual monsoon is delayed as water level in Singda Dam has reduced to an alarming stage, said Ksh Tombi, state executive engineer water supply project construction division, public health and engineering department.
Speaking exclusively to the Imphal Free Press, Tombi said the water level of Singda dam has fallen to 8.96 metres, which is an alarming stage.
Water level of Singda dam is divided into three level. Of the total dam level of 34 metres, the first level is marked at 10 metres from the top of the dam and another 10 metres at the second level and the last level is marked with 14 metres. If the water level is reduced below the second level, it is considered as alarming stage, Tombi explained.
Tombi also said that Singda dam supply drinking water mainly in urban areas. It usually supplies 18.16 MLD (million litres per day) but with the reduced water level of the dam, only 9.5 MLD is supplied, that also in roster system.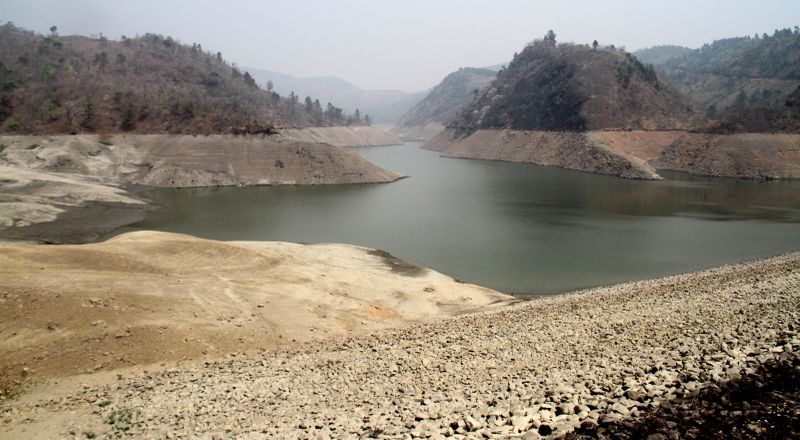 (PHOTO: IFP)
A joint press statement issued by the public health and engineering department recently mentioned that "due to the drastic reducing of water level at Singda dam and drying up of Leimakhong river, which are the main source of raw water, the treatment plants at Singda, Kangchup and Kangchup Extension (WTPs) are unable to produce optimum quantity of treated water.
Taking precautionary measures by the department concerned, the areas covered by these water supply projects namely Phayeng, Lamsang to Naoremthong, Langjing area, Uripok, Nagamapal, Lamphel, Langol area, Sagolband area, Tera Sayang, Nepra Menjor supply zone, Thiyam leikai supply zone, Sangaiprou supply zone, Irom Pukhri zone, Haobam Marak zone, Chingtham leikai zone, Babupara, Keishamthong, Keishampat zone and Paona bazaar area will be highly affected, it added.