Ginseng, which is in high demand in the international market because of its rich medicinal properties, is found in abundance in Ukhrul district of Manipur. Considering the soil and climate suitability and the sustainability factor, ginseng of the genus Panax Pseudoginseng Wallich belonging to the family of Araliaccase and Thalictrum Foliolosum could be one of the viable alternatives to poppy plantation, which the government has rightly banned and declared illegal.
An investigation by the Imphal Free Press found that maximum random extraction of ginseng roots, a ginger look-alike flower roots (awon-pai) and other root-based eatable plants were reported from many villages. Lured by its high price tag and in the rush to earn quick money in the absence of income, many innocent villagers have been recklessly uprooting tons of ginseng from the rich forest areas.
In an interaction with several villagers by this correspondent from Ukhrul, it was learned that the trend of random extraction, however, has been curbed by the village authorities and local youth bodies. In recent years, more ginseng plantation is being promoted.
One Ningyai Vashum, a resident of Talui village in West of Ukhrul district, said he produces around 100 kg ginseng. "I planted its roots in the month of January and has now started sprouting its buds and will be harvested in due course of time," he said.
The government should encourage villagers to farm more ginseng because in view of its high contents of medicinal properties and suitability with our soil type, it could definitely open the doors for growers to better their livelihoods, Vashum said, urging the government to initiate incentives-related package to encourage the growers.
A reliable source told the Imphal Free Press that it's business as usual. People from Somra track used to come and purchase directly from the agent and from here got transported back to the Indo-Myanmar border from where the Chinese came and collect the product.
"To avoid being caught, they go down the rough hilly terrain routes," the source said.
Earlier, one kilo of dry ginseng would fetch around Rs 12,000 to Rs 15,000. However, its prices had drastically come down in recent times due to imbalance in demand and supply created by the global pandemic where movement of people especially for those engaged in cross-border business had been restricted, the source said.
Advertisement
Restrictions imposed by concerned village authorities had saved and prevented further extraction in the forest, he added.
Apem (named changed on request), a resident of Thoyee village in South of Ukhrul district, said that he had planted some pieces of ginseng at his farm side on a trial basis to see its suitability.
"Ginseng is more suitable in wet lands than in warm temperature where water content is limited," Apem said while sharing her first trial and tasted experimentation.
Meanwhile, another grower named Ayao of Pushing village in East of Ukhrul distrist said, "To test its suitability I started off small. However, seeing that it could be done in large scale I have decided to grow more". 
Ginseng cultivation should be encouraged like any other organic plantation so that many low income and unemployed youths could be absorbed into this highly productive and lucrative farming, he said.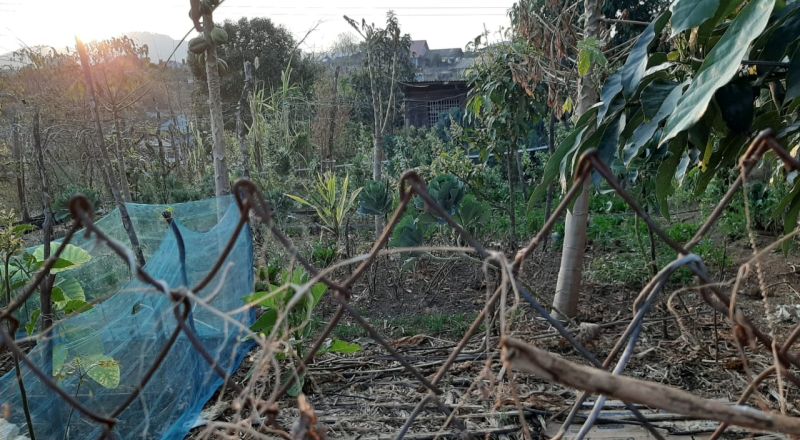 (PHOTO: IFP)
At Namrei village and in Chingjaroi Khullen, both in North of Ukhrul district, some few individuals have also started ginseng plantation in small scale. 
In Ukhrul district, there are scores of people who would want to start ginseng farming. But due to lack of support system, its planting was confined to kitchen gardens. 
Today, people openly go about extracting this rich forest plant in huge chunks. All these, however, has slowed down, thanks to the timely wakeup call sounded by nature lovers and people who are in the know. 
Advertisement
Ukhrul district in Manipur is no exception to this business. However, following blanket restrictions imposed by the respective village authorities and youths, random extraction of ginseng has gone underground fearing backlash.
Alongside creating awareness, it would yield more dividends if this naturally found and easy to grow plant is given due importance by introducing slew of opportunities and dividends to the growers from the part of the government. 
Ginseng is popular for its rich medicinal properties. It is commonly and widely used by people to treat indigestion, toothache and other health problems. People also simply use in preparation of food to add flavour to dishes.
Efforts should be made by all concerned to promote ginseng plantation which can yield rich dividends for the people and the economy of the region as a whole. However, random extraction of it should be checked.
Forest is the key to the lives of the hill dwellers who depend on forest produce for their livelihoods. Hence the need to preserve and protect the natural resources for sustainability has become all the more important amid the impact of climate change.
For sustainable development of the people, more trees needed to be planted while cutting down trees for meeting their needs. There is an urgent need to spread more practical knowledge on this count instead of delivering the usual lectures or seminars on climate change.
If the people in the hill region are to continue enjoying the priceless fresh air and fresh water and organic food amidst the rich forest cover, all must join hands together and find sustainable means to better improve the ever-dwindling forest cover. 
Climate induce changes could be seen from the unpredictable rain pattern and the hot temperature recorded in recent years. The green hills are slowly drying and warming up.
Advertisement