Normal life remained out of gear in all the hill districts of Manipur on Saturday following the bandh called by the All Tribal Students Union Manipur (ATSUM).
Moreh came to a standstill on Saturday after Kuki Students' Organisation (KSO), Moreh Block enforced the 24 hours total shutdown.
As the bandh affected the normal life in the Indo-Myanmar border town, shops, markets, banks, offices and other business establishments remained closed. Movement of vehicles was halted by the bandh supporters. Though the student body exempted educational institutions from the purview of the bandh, most of the schools in and around the border town also remained closed. Medical emergency and essential services were allowed to move after prior information from the student body.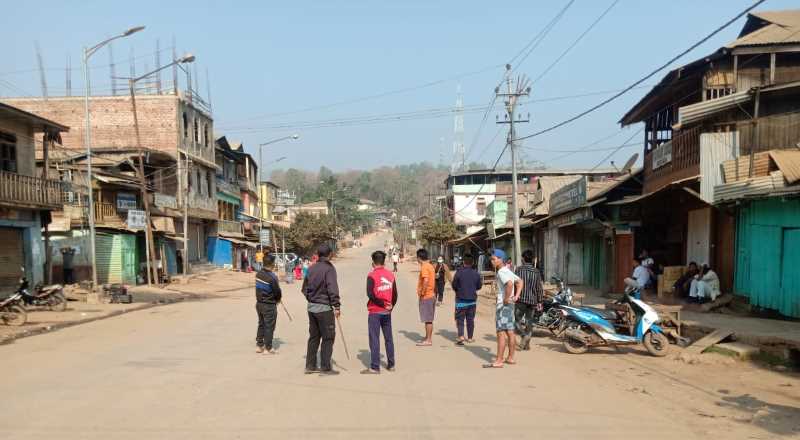 Moreh | IFP Image
Volunteers of KSO were seen blocking the road at Moreh bazaar, Chikim village, Forest Gate, Haulenphai and various other points along the national highway.
During the bandh no untoward incidents occurred till the filing of this report.
The ATSUM announced 24-hour shutdown call in the hill districts on Friday after a discussion of the union and the state government on March 11 failed to arrive at an understanding or reach a concrete decision over Autonomous District Council elections.
The hill districts include Ukhrul, Churachandpur, Tamenglong, Kangpokpi, Senapati, Noney and Chandel.
ATSUM information secretary Khaiminlen Doungel stated in a release that a meeting was held between ATSUM and the state chief minister on March 11 at the chief minister's bungalow following an invitation from the latter.
However, no concrete decision was arrived at even after holding a threadbare discussion on matter pertaining to the impending Autonomous District Council elections, it stated. Therefore, the ATSUM imposed a 24-hour bandh call from the midnight of March 12 as proposed.