Northeast
Several functions mark International Women's Day 2021 celebration across Manipur
Lauding the role of Manipuri women towards the development of the state, Social Welfare Minister Henry Okram said Manipuri women have been in the forefront on every issue such as social and political issues.
Updated on 8 Mar 2021, 5:42 pm
International Women's Day 2021 was celebrated with much vigour and several functions were held across the valley and hill districts of Manipur on Monday with the theme - 'Women in Leadership: Achieving an equal future in a COVID-19 World'. In the capital Imphal, a function at JN Manipur Dance Academy marked the celebration.
Speaking as chief guest of the function in Imphal, Social Welfare Minister Henry Okram said the government is looking forward to introducing various programmes and schemes for women empowerment in the state. He said that the status of Manipuri women is relatively higher compared with women of other regions.
"Our society has given due respect and space for women since ages. However, there is a need for awareness and campaigns about women's rights and empowerment," Henry said.
Lauding the role of Manipuri women towards the development of the state, the minister said Manipuri women have been in the forefront on every issue such as social and political issues.
Commissioner (Social Welfare) Gyan Prakash recounted the history of women's movement and struggle for their rights across the world. He mentioned that Russia was the first country to announce March 8 as a public holiday, recognising their struggle for rights. He urged the people to put a collective effort to achieve gender equality.
On the occasion, Padma Shri Awardee 2021 Hanjabam Radhe Devi was honoured and felicitated by the dignitaries.
Chairperson of Manipur State Women's Development Corporation Limited S Satyabhama Devi; chairperson of Manipur State Commission for Women; chairperson of Manipur Commission for Protection of Child Rights Ph Manibabu; director Social Welfare Ng Uttam, officials and others were present during the function.
Meanwhile, the Institute of Bioresources and Sustainable Development (IBSD), Imphal, under the Department of Biotechnology, organised a webinar to mark the celebration.
A release stated that as a part of the celebration, various women personalities of the state spoke on various topics and issues. Former member of National Commission of Women, Government of India, Soso Shaiza presented a lecture on 'Men for Women', while former dean of Life Sciences, MU spoke on the Contribution of Women Scientist in Science and Technology.
District session judge, A Noutuneshwari Devi, in her speech on the occasion, spoke on Crime against women and its legal remedies, and former chairman, Manipur State Commission for Women, Ch Jamini Devi delivered her speech on 'Women empowerment – Women as a force to change'.
At the event which was organised under the guidance of director, IBSD, Imphal, prof Pulok Kumar Mukherjee was attended by around 200 people who are working in IBSD, Imphal and its different centres located in northeast India.
In Churachandpur district, International Women's Day observation cum Loan Mela with the theme 'Choose to Challenge' was held at Peace Ground, Tuibong. The programme was organised by the district administration, Churachandpur under Beti Bachao Beti Padhao campaign and it was mostly participated by students and women in the district.
The chief guest of the programme was Mimi Khaute, while the guests of honour were DC of Pherzawl district, Mannuamching, deputy director of MSME-DI, Government of India, Reeta Yadav and director of MSME-DI, Government of India, Th Baite. DFO of Churachandpur, Esther Laltankim Serto was the functional president and DC of Churachandpur, Pawan Yadav was the chief host.
Mimi Khaute said wherever women are empowered they are able to complete any task better than their male counterparts.
The chief guest also handed out prizes to the winner of a short film competition on women empowerment. The prize was won by Henminlun, who made the short film based on the film 'Sophia'. The occasion also witnessed stalls setup by banks, widows associations and others.
Meanwhile, over 300 Anganwadi workers of Churachandpur organised a peaceful rally from Lamka public ground to DC office, Tuibong and submitted a memorandum to the Prime Minister and state chief minister to assert their right on the day of International Women's Day.
Workers, whose honorariums have not been paid for years, took out a rally by displaying placards demanding proper counters for women at banks, hospitals and other public places, proper market sheds and venues for the street vendors. The memorandum was received by additional DC, Khaikhopau Ngaihte, who assured to forward it to the PM and state CM.
The workers also demanded that the Anganwadi centres should act as pre-primary schools in the state and their minimum wages should be at least Rs 18,000. The memorandum further demanded setting up of an employee state insurance corporation hospital, seats are reserved for women in public transports, proper sanitation and washrooms for women in government establishments and others.
In Thoubal district, Nehru Yuva Kendra Thoubal in collaboration with Council for Advancement of Rural Development (CARD) celebrated the International Women's Day at the complex of CARD, Thoubal Kshetri Leikai. The event witnessed the presence of retired assistant director of SAI, K Michael Singh as chief guest, former councillor of TMC, P Jiteshwor Singh as functional president and district youth officer of NYK Thoubal, Michael Mate as guest of honour.
In honour of the contributions made by Azad Hind Fauj's women regiment, a Padyatra (Walkathon) was carried out from CARD, Kshetri Leikai by the dignitaries and participants. Fifty youths (35 girls and 15 boys) took part in the event.
In Tamenglong district, the day was celebrated at two different places under the theme 'Choose to Challenge'.
At Indoor Stadium, Tamenglong, the day was celebrated with deputy commissioner of Tamenglong, Armstrong Pame as chief guest. Medical officer of district hospital, Tamenglong, Dr Jenny Gonmei and founder of CATCH Ministry, Tamenglong, Fiona attended as guest of honour and resource person respectively.
The programme was organised by Self Help Group Federation (SEAT), Tamenglong in collaboration with One Stop Centre, Tamenglong, Rainforest Club Tamenglong and media houses.
In his chief guest speech, Pame informed the One Stop Centre at Tamenglong and also asked all women to report at the centre any case of domestic violence in their family. He also said that women are given much priority in the newly constructed market and all the 280 seats were given to women.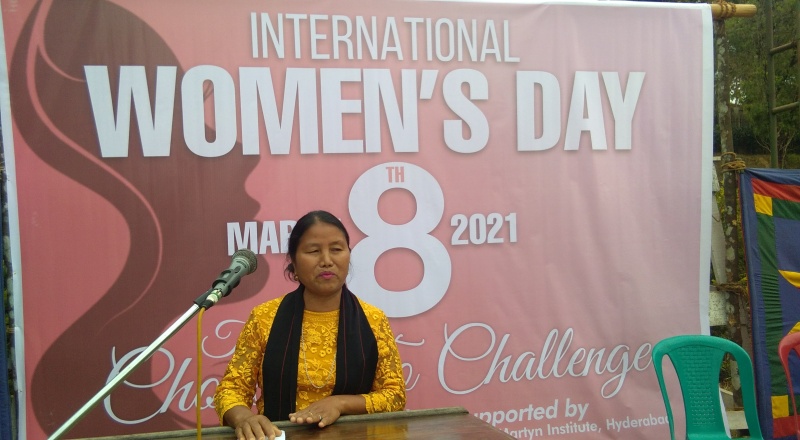 (PHOTO: IFP)
International Women's Day was also celebrated at Unity Stadium, Old Tamenglong, organised by the Indigenous Women and Children Foundation (IWCF) in collaboration with the Inriangluang Luh Chuzeang Phuam with the support and assistance from Henry Martyn Institute, Hyderabad.
Research scholar in Law, Vehotolis Sema Malladi and social activist Khondiliu Pame attended the programme as chief guest and guest of honour respectively. Additional SP, Karthik Malladi attended as a special guest.
At Noney district, the day was observed with a peace rally with placards and banners at Longmai bazaar. The rally was jointly organised by Bharatiya Mazdoor Sangh Manipur State, Anganwadi workers, helpers, ASHA workers, street vendors and women organisations. They also urged the authority concerned for proper functioning of Anganwadi centre, proper market sheds for women street vendors and reasonable wages for ASHA workers.
In Ukhrul district, the observance of International Women's Day was held at DRDA Hall, Mini Secretariat, organised by the District Administration in collaboration with ICDS and One Stop Centre (OSC).
Speaking as chief guest of the programme, former member of National Commission for Women (NCW), Soso Shaiza said that Tangkhul women have been performing the herculean task of mediation in the event of conflicts and tensions. The granddaughter of former chief minister of Manipur, Yangmaso Shaiza, also called upon all the women to speak up about the ill treatment meted out to them at their homes by men.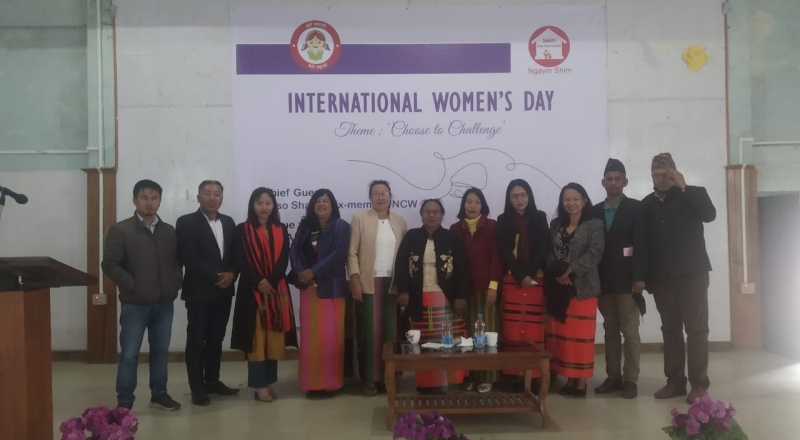 (PHOTO: IFP)
"Pukreila titled is given to Tangkhul women who acted as a mediator in times of conflict by restoring peace and harmony between the conflicting parties through their steadfast efforts by proactively pitching for peaceful settlement. They shouldered the responsibilities without arms," she added.
The assembly also observed a one-minute silent prayer for the victims of the ongoing conflicts in Myanmar and the people's leader Aung San Suu Kyi under the supervision of Soso Shaiza.
While lauding the role of Meitei women folks (Meira Paibis) in ushering peace in the state, Soso Shaiza recalled and paid salute to the samaritan role played by Rose of Kumram village and Luingamla of Ngaiga village for their spirited stand and fight for women's rights.
Speaking at the event, deputy commissioner of Ukhrul, Joseph Pauline Kamson urged the women in the district to put up more women candidates in the ensuing ADC/MDC elections so that a level playing field is created. As a part of the event, Centre Administrator OSC, Ukhrul director, Chonchuirinmayo Luithui extended a show of appreciation to Yuimi Vashum for her commendable job in voicing the concerns of the women.
In Kangpokpi district, local MLA of 50-Kangpokpi assembly constituency, Nemcha Kipgen celebrated the auspicious day with the people of her constituency especially the women community at Nute Kailhang. Attending the programme as chief guest, Nemcha also recognised the immeasurable contribution, selfless service and active role of the community during the pandemic COVID-19 and appreciated them with a reward for setting an extraordinary example of commitment, solidarity and dedication towards humanity during the health crisis.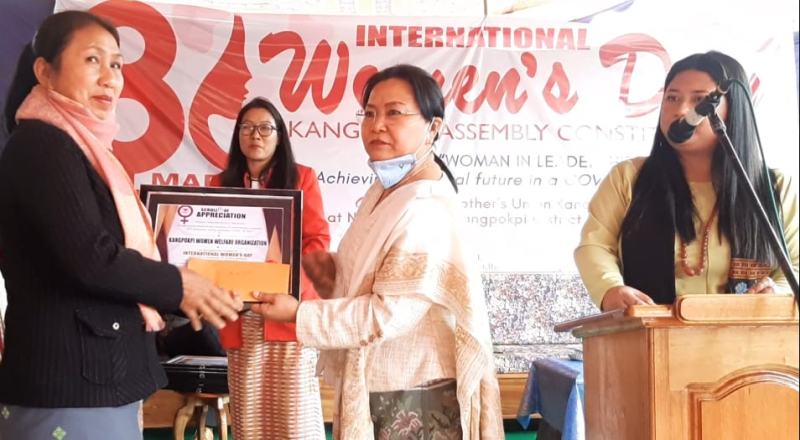 (PHOTO: IFP)
The event organised by the Mother's Union Kangpokpi was also attended by former ADC Sadar Hills chairman, Haokholal Hangshing and Kangpokpi Town Committee chairman, Lunkhoseh Kipgen as guest of honour and functional president respectively. Nute (Ema's) of Nute Kailhang, various women organisations within Kangpokpi and other civil bodies enthusiastically attended the event.
Addressing the gathering, Nemcha said the day is significant to make people aware of women's rights, safety and gender equality as the purpose behind the celebration is to promote peace with women's rights.
Mother's Union Kangpokpi president, Themlhing Lhouvum said that some of the most efficient and successful responses to the COVID-19 pandemic were led by women and Kangpokpi was one among the most efficient and successful districts in the fight against the pandemic COVID-19.
Haokholal Hangshing spoke on the origin and significance of International Women's Day while Lunkhoseh Kipgen and Tingneilhing Hangshing, wife of Haokholal Hangshing, spoke on the need to empower women.
Also, St Xavier's College, Maram Khunou Senapati, and its fraternity joined the global citizens in celebrating International Women's Day. Speaking on the occasion, advocate Koshia Mao sensitised the gathering on the issue of crime and domestic violence. "We take pride as a society that empowers women but women have not been accorded equal opportunities. I chose this career because of the injustice that women in our patriarchal society experienced. Follow your dreams. Find your passion. Love what you do and work hard to achieve your dreams," she urged the congregation.
"Women are an important part of society, whether in the form of mother, sister, daughter, etc. She is the heart that runs society. Our world is beautiful because of women," principal of the college, reverend father Nepuni William reminded the gathering while welcoming the guests and the dignitaries.
Senior specialist, District Hospital, Senapati Dr Thao Baorou stressed the need for moral and value-driven education. "The Bible is our biggest asset. It is our inspiration and our guide. If we diligently follow its instructions and obediently abide its teachings, many crimes against women can be averted," she added.
Helen Khole, a member of the organising committee shares, "Every day is a great day to celebrate the amazing women in your life, but International Women's Day gives you an extra reason to do just that. This is the first Women's Day celebration being organised in the college. We want to remind the students and the fraternity of the importance of women and their contribution to nation-building."
Member of the organising committee, A Athia Redzu said, "Every one of us is responsible for our own thoughts and actions - all day, every day. Let us choose to seek out and celebrate women's achievements. Together, let us choose to create an inclusive world."
The occasion was organised by the women cell of the college and witnessed a host of dignitaries from different walks of life following strict COVID-19 protocols with glorious performances from the students portraying womanhood and their achievements.
The Loktak Battalion of Assam Rifles also organised a motivational lecture on 'Join Indian Army/Assam Rifles' for women, students and youth of Bishnupur district at Ningthoukhong MG College. The occasion was organised under the aegis of Churachandpur Sector.
As a part of the occasion, girls were informed of job opportunities and various entries to join the Indian Army or Assam Rifles. Along with the pivotal role forces played by the armed forces in maintaining unity and integrity of the nation, the various facilities and privileges that are entitled to Rifle women in Assam Rifles were also highlighted.
A total of around 35 young women attended the session. All COVID related protocols were observed during the interactions.
The International Women's Day was also celebrated by the 44 Assam Rifles under the aegis of 22 Sector of Assam Rifles IGAR (E) and organised Shakti Sammelan at Gelnel village of Kangpokpi district.
In a statement issued by 44 Assam Rifles Tamenglong Battalion, Adjutant Major D Singh Gusain said similar events on International Women's Day were organised at the location of Battalion headquarters village Akhui and Dikhuram. A total of 200 locals along with soldiers participated in various events held at different posts of 44 Assam Rifles with full vigour and zeal.
Speaking during one of such events held at battalion headquarters, commanding officer of 44 Assam Rifles, Col Pradeep Kumar commended the women of the Northeast in their clearly stronger role in the society, starting from home-making to winning medals in Olympic medals or serving in the armed forces.
First published:8 Mar 2021, 5:39 pm
Tags: