Northeast
Dhanamanjuri University to confer honorary degree to Manipur CM Biren
The decision to confer an honorary degree to Manipur Chief Minister N Biren Singh was taken at the first Senate Meeting of the Dhanamanjuri University held on February 26, 2021 in Imphal
Updated on 1 Mar 2021, 1:34 pm
The 1st Senate Meeting of Dhanamanjuri University held in Imphal on February 26, 2021
The 1st Senate Meeting of Dhanamanjuri University was held on Friday at Durbar Hall, Raj Bhavan in Imphal virtually.
In her address as chancellor, Manipur Governor Dr Najma Heptulla welcomed the Senate members at the 1st senate meeting. During the meeting, the Senate members agreed for conferment of an honorary degree to Manipur Chief Minister N Biren Singh.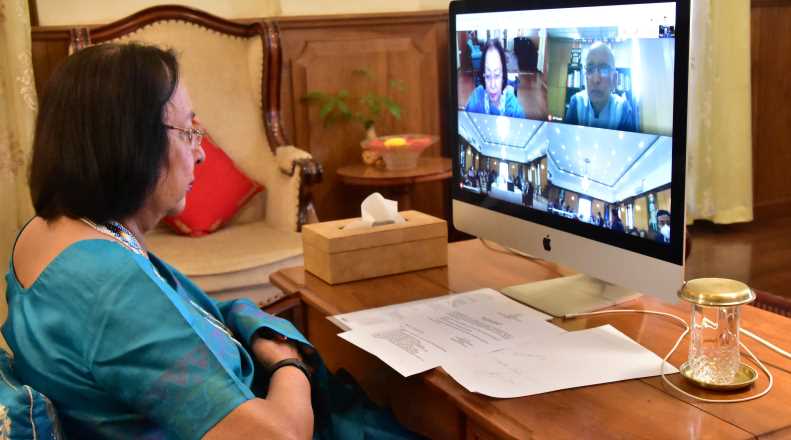 The progress report of Dhanamanjuri University was given by the registrar, citing that Dhanamanjuri University was established on April 6, 2018 under the 'The Dhanamanjuri University Act, 2017' which came into force on April 6, 2018, through a gazette notification of the state government with infrastructure funding from RUSA (Rastriya Uchchattar Shiksha Abhiyan), a National Scheme under the Ministry of HRD, Government of India.
Highlighting the achievement of the University, the registrar, DMU, mentioned that the University has undergraduate and Post-Graduate Courses of various subjects. The University is recognized under section 2 of the UGC Act, 1956 and affiliated to the Association of Indian Universities and the students have been representing the University in various sporting tournaments at the university level.
The University is now listed in the National Testing Agency (NTA) website and some students of University have cleared the UGC-NET Examination and registered to National Academic Depository (NAD).
Since the 1st Academic Year, the University follows Choice Based Credit System in PG programme, the University in collaboration with King Sejong Institute, South Korea has started Korean language Study Centre and Started the Certificate Programmes, she added. The vice-chancellor and many ex-officio members of the DMU attended the meeting. (DIPR)
ALSO READ
First published:28 Feb 2021, 4:22 pm
Tags: