Exclusive
Peace walker from Germany takes out cleanliness drive in Moreh
Thomas Heinrich Schmöckel from Greven in Germany says the love for nature drives him to keep the environment clean wherever he could.
Updated on 7 Feb 2021, 2:33 pm
Breathing nature and going where the river runs through, Thomas Heinrich Schmöckel from Greven in Germany, who is on a peace walk in India, has been filling up bags full of garbage day after day and cleaning up the place around Khujairok river in Moreh, Indo-Myanmar border town in Tengnoupal district of Manipur in Northeast India.
"The town is in a complete mess," Thomas says in an exclusive interview to the Imphal Free Press.
Seeing the mess in and around the town and the riverside, he told IFP that he has been posting pictures of the place on Facebook to create awareness and consciousness of the environment among the people. Picking up the garbage himself, he has been showing the locals how to keep the river and the natural surrounding clean.
The love for nature drives him to keep the environment clean wherever he could as he walks thousands of miles across states and countries as a part of his peace walk, he says.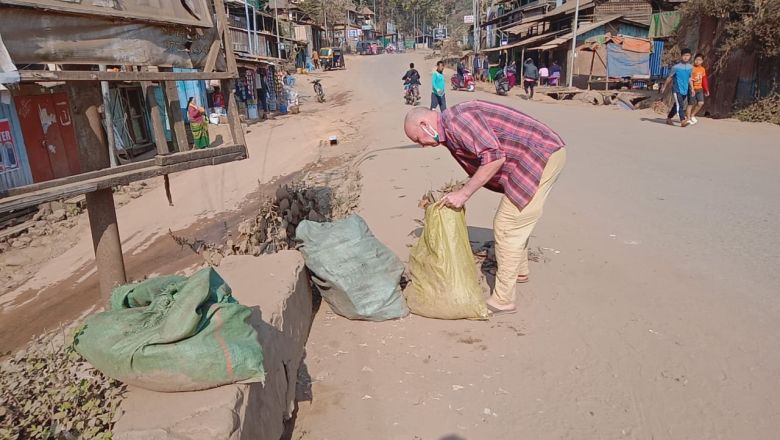 (PHOTO: IFP)
The peace walk began way back in 2007 when he founded Steppps—Peace Pilgrimage to promote world peace and clean environment on planet Earth, Thomas, who is also a spiritual healer and street artist, says.
"We walk for peace, for this Earth, for ourself, between humans, between humans and animals, between humans and nature, and for a new age, a new consciousness," the peace walker says as he explains about the peace pilgrimage.
However, what actually moved him to go on a peace walk on planet Earth was a "very loud" inner voice that he heard when he was 26, Thomas reveals. He's now 50, he adds.
After hearing the loud voice, he set out on a peace walk on planet Earth from a place near Passau in Germany, Thomas says.
Today, as told to the IFP, Thomas has walked 24,000 km, covering 17 countries, including Germany. He has walked through Germany, Austria, Hungary, Romania, Bulgaria, Greece, Turkey, Lebanon, Jordan, Israel, Palestine, Georgia, Armenia, Iran, Afghanistan, Nepal and India.
The most beautiful places of all that he has been and seen? The "Planet Earth," he replies without a doubt.
"Every place, every country is unique and beautiful. We need to keep it clean and beautiful," he says.
Of all the countries he has walked through, Romania came as a surprise, Thomas shares.
"Romania, though it is considered a poor country, is amazingly beautiful. The people are warm, hospitable and beautiful," he says, adding, "Iran too is most beautiful. People are very hospitable".
Although it's a "beautiful mindful walk" on earth, Thomas sometimes faces tough times in finding a place to stay and looking out for food when he runs out of money. He, however, manages to walk on with a little help in cash and kind from people he meets in his walk.
Thomas says he walked in stages within five years through 10 European countries. He then started his walk from Germany to India in 2012. Through his walk, he continued cleaning the waste and dirt at any natural resources site.
Thomas reached India in August 2017. With the plan to walk to Myanmar and Tibet, he headed for Manipur. He walked from Jiribam to Imphal to Kakching, and he reached Moreh on November 22, 2020, he says.
However, as the India-Myanmar border was shut in view of the Coronavirus pandemic in the region, he could not move beyond the border town. As the border remained sealed with no sign of it opening up any time soon, he continued his stay at a hotel in Moreh.
While moving around during his stay, he saw the heaps of garbage piling up in the town and around the historical Khujairok riverside. Khujairok river flows through the heart of Moreh.
Thomas then started the cleanliness drive around the place on February 3. And, soon, he was joined by a few local youths. He says he will make all efforts to clean the river and will appeal to all the civil society organisations' leaders and public of the town to keep the surrounding natural resources and environment clean. His act of saving the environment and cleaning the place is, indeed, an eye opener to people in this trade town.
On seeing him cleaning the Khujairok river, many leaders and officials in the town also joined him in cleaning the river. Some of the officials include M Amit Singh, ASP, Moreh, M Thoiba Singh, president MCM, members of the Workers and Traders Association Moreh and the Dedicated People's Union.
Thomas has drawn people from different walks of life to join his selfless service of promoting peace and keeping the environment clean.
"Now, everyone in the town should learn to keep our surrounding and natural resources clean. All should extend support to Thomas for his social service," a local youth told IFP.
As he goes on cleaning the river and the town, Thomas stressed upon the need for nature consciousness and the importance of being with nature and protecting it. He also expressed the hope that people in the town would continue to keep the town and the surrounding areas clean.
First published:7 Feb 2021, 2:29 pm
Tags: