Contractual nurses and multi-tasking staff (MTS) of three Covid Care Centres namely UNACCO, Lamboi-khongnangkhong and RD Wing on Tuesday afternoon attempted to storm CM's Bungalow, decrying the alleged termination of their services by the government.
To meet the chief minister over the issue, the aggrieved staff came marching towards CM's bungalow from the western side. Their attempt was foiled by police personnel who stopped them in front of Nupi Lal Complex. A confrontation broke out between the two for about 30 minutes.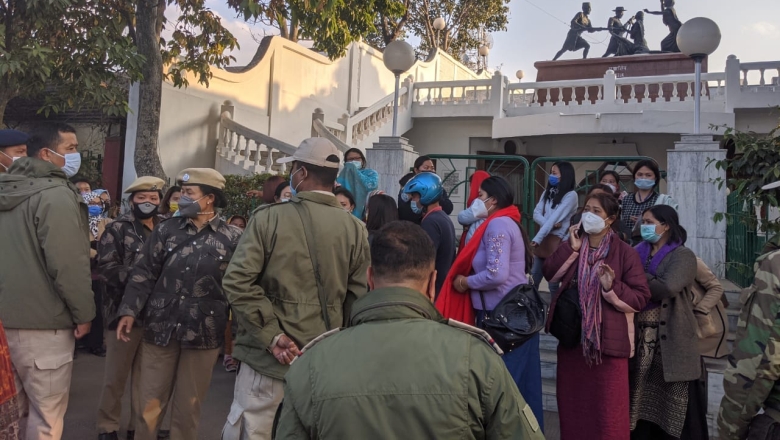 (PHOTO: IFP)
Advertisement
The contractual staff were engaged for three months from August 3 last year. Their service was extended for another three months and they were utilised for a total of six months.
Speaking to the media on the sidelines, contractual nurse Roshni, who was posted at UNACCO Covid Care Centre, said that a letter signed by the chief minister was sent to the Medical Directorate stating that the service of the contractual staff cannot further be extended.
"As the contract expired on February 2, we have been seeking appointment to meet the chief minister. However, we were not able to air our grievances so far as no appointment has been given," she lamented.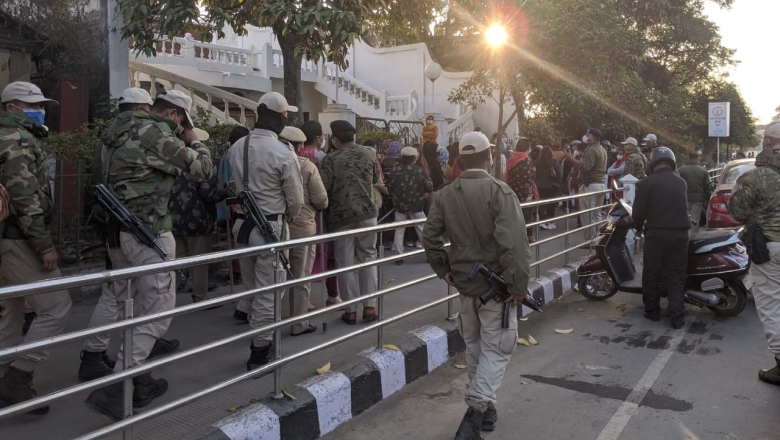 (PHOTO: IFP)
Advertisement
She further drew the attention of the government to make arrangements for absorbing the contractual staff, who have risked their lives, in vacant posts of nurses and MTS in the hills as well as the valley.
The aggrieved contractual staff also appealed to the government to value the services they have rendered to save human lives amid the COVID-19 pandemic.
The contractual staff on Monday staged a sit-in protest at RD Wing Complex, Lamphel and even locked the medical directorate over the issue. 
ALSO READ: 
Advertisement