Northeast
Voters must exercise franchise to be part of nation building process: Mizoram CS Lalnunmawia Chuaungo
Mizoram joined the nation in observing the National Voters' Day on Monday.
Updated on 25 Jan 2021, 12:55 pm
Mizoram Chief Secretary Lalnunmawia Chuaungo
As Mizoram joined the nation in observing the National Voters' Day on Monday, Mizoram chief secretary Lalnunmawia Chuaungo called on all voters to exercise their franchise to be a part of the nation-building process, reminding the citizens that every vote counts.
"Unlike other countries where universal adult franchise was a long struggle, the Constitution of India guaranteed citizens the right to vote as soon as the country became a republic. This is a hallmark of Indian democracy," the chief secretary said.
The National Voters' Day function organised at the SAD Conference Hall, MINECO in Aizawl.
The chief secretary handed over EPICs to 10 newly enrolled young voters to mark the observation of NVD 2021.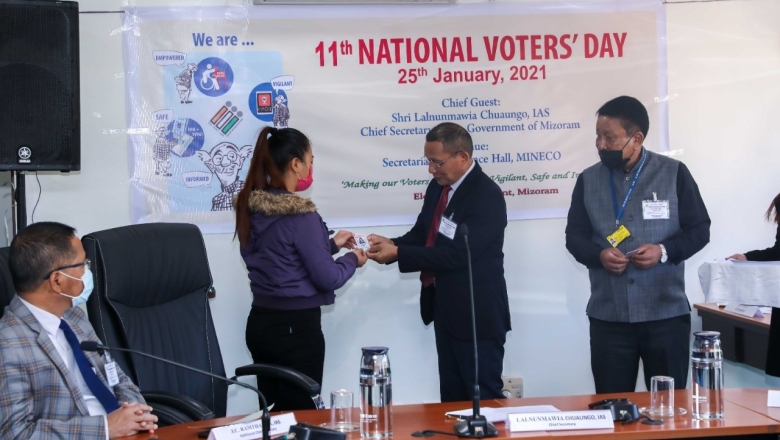 Chief secretary Lalnunmawia Chuaungo hands over EPIC to a newly enrolled voter
Aizawl District DC and district electoral officer R Lalramnghaka, senior government officials, representatives of various NGOs and students attended the programme in Aizawl.
The National Voters' Day was also celebrated for the 11th time in Mamit District at the Conference Hall of DC office.
A National Voters' Day pledge was recited by all the individuals present at the venue to mark the event and new EPIC cards were distributed to the new electorates of the district.
District Election Officer Lalrozama graced the programme as the chief guest while EO Mamit Lalhmachhuana chaired the event.
ERO/AEROs, BLO, NGOs, CBOs, political parties representatives and media personnel of the district attended the programme.
First published:25 Jan 2021, 12:33 pm
Tags: