Mushroom cookies, mushroom tea, mushroom noodles, mushroom powder, mushroom pickles… her bags are full and her stable is flourishing with the choicest of mushrooms that she cultivated for a living. Today her platter is filled with success, awards and huge profits. In an exclusive interview to the Imphal Free Press, an award-winning mushroom farmer from Manipur, Rajkumari Binita Devi shares her success story and encourages youths in the state to take up mushroom cultivation.
A housewife, Binita from Moirangkampu Sajeb, Tinseed road, Imphal East earns more than a lakh rupee in a month through mushroom farming and production. But she became a mushroom farmer not by choice but accident and journeyed on to become a successful entrepreneur and won several awards.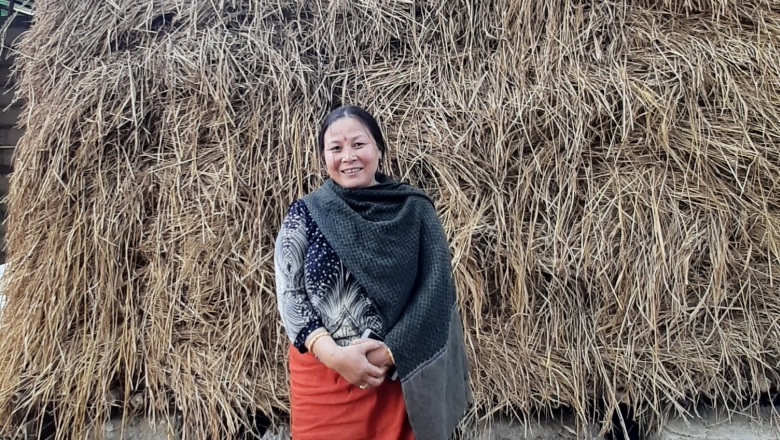 Rajkumari Binita Devi (PHOTO: IFP)
Narrating her story, Binita told the Imphal Free Press a group of boys who started a mushroom farming near where she lives left the farming materials at her house after the landowner told them to vacate their farming area.
"As the materials were left for long, I called up the boys and told them to take them away. But they did not take their things. Instead, they told me that they would come and teach me the techniques required for mushroom farming."
The boys taught her the necessary skills and techniques and she began mushroom cultivation in a small scale with 50 poly bags and then 200 in a small room in her house in the year 2011. She gradually increased the number of bags to 400, said Binita.
(PHOTO: IFP)
However, with no professional training, she could not yield the products successfully since some of the mushrooms would rot before she could reap the yield. Abandoning the cultivation for a few years, Binita joined a training programme on mushroom cultivation in June, 2016. She then resumed the mushroom plantation with 800 polybags, after which she could see her business gradually growing.