COVID-19
COVID-19 vaccines arrive in Manipur
The first consignment of 54,000 doses of COVID-19 vaccines arrived in Manipur on Wednesday.
Updated on 14 Jan 2021, 8:37 am
As India is set to begin the world's largest immunisation programme - COVID-19 vaccination, the much awaited first consignment of COVID-19 vaccine Covishield, totalling 54,000 doses reached Manipur on Wednesday.
Chief Minister N Biren Singh, advisor to the chief minister (health) Sapam Ranjan, director Health Services Dr K Rajo, chief secretary Rajesh Kumar and other officials received the vaccine at Bir Tikendrajit International Airport, Imphal.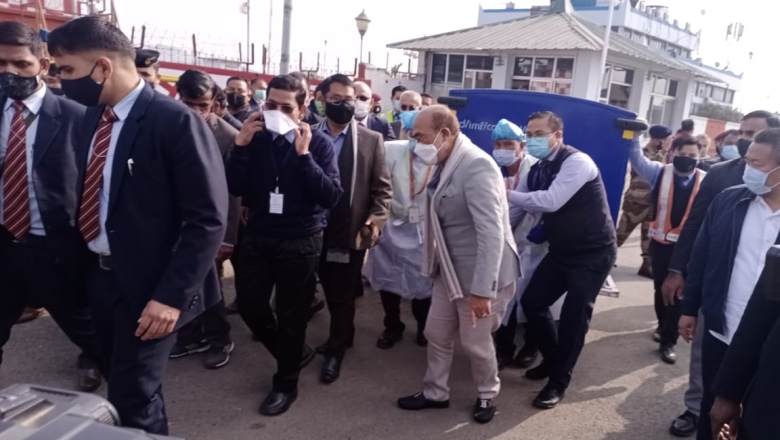 (PHOTO: IFP)
Briefing the media at the airport, CM Biren said that the vaccination will be conducted systematically and there will be no favouritism and nepotism in vaccination. Of the total 39, 991 beneficiaries, 8,476 health workers will be vaccinated on January 16, the chief minister said.
CM Biren said 1,831 health workers from Jawaharlal Nehru Institute of Medical Sciences (JNIMS); 3,136 from Regional Institute of Medical Sciences (RIMS); 210 from Senapati district headquarters; 318 from Churachandpur; 473 from Ukhrul; 261 from Chandel; 297 from Bishnupur; 394 from Thoubal; 436 from Tamenglong and 1,120 from Shija Hospital Imphal have been identified for vaccination.
Biren said that priority for vaccination will be first given to the health workers and other frontline warriors as per the advice of the Prime Minister. Dry run for COVID-19 vaccination at 138 government health facilities and 108 private health facilities had already been completed, the chief minister said.
There has been no reported casualties for the past few days along with a decreasing number of positive cases, the CM further said.
"I believe that people of Manipur can be protected from COVID-19 with the arrival of the vaccines," CM Biren added.
The chief minister also appealed to the people to maintain SOPs and avoid social gatherings until all the people are vaccinated. He further said that the state government will definitely try to chalk out means to provide COVID-19 test at minimum cost at the interest of the poorer sections of the state.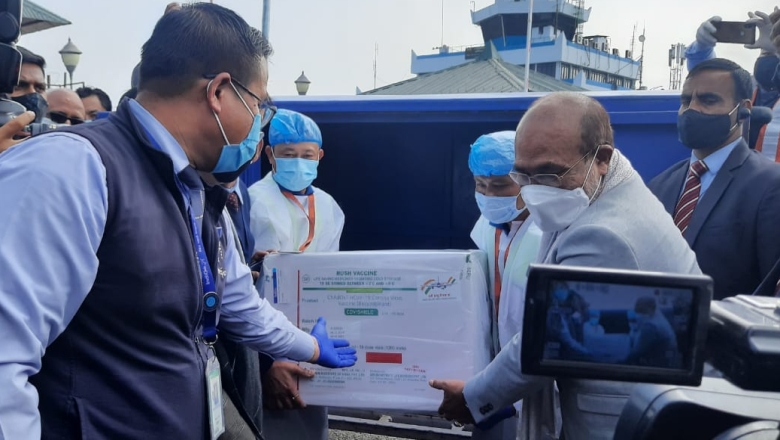 (PHOTO: IFP)
Biren said, "I congratulate and appreciate the Prime Minister of India and union health minister for timely distributing the vaccine all over India."
Meanwhile, director health services Dr K Rajo said the vaccines will be stored at the Health and Family Welfare department, after which they will be transported to different districts. Dr Rajo also said that the vaccine which has been already approved even by the United Kingdom is safe for the people.
After the first vaccination, the second will be conducted after 28 days or after six weeks. After six weeks, immunity will develop in the body, Dr Rajo said.
Prime Minister Narendra Modi will launch the nationwide vaccination drive on January 16 via video conferencing.
India on January 3 approved two COVID-19 vaccines - Covishield and Covaxin - for restricted emergency use. Covishield is manufactured by Serum Institute of India in a tieup with ASraZeneca, while Covaxin is indigenously developed by Bharat Biotech in collaboration with the Indian Council of Medical Research (ICMR).
The Drugs Controller General of India (DCGI) gave the approval for restricted emergency use as recommended by a COVID-19 Subject Expert Committee of the Central Drugs Standard Control Organisation (CDSCO).
Announcing the approval, DCGI Dr V G Somani told the media: "After adequate examination, CDSCO has decided to accept the recommendations of the Expert Committee and accordingly, vaccines of M/s Serum and M/s Bharat Biotech are being approved for restricted use in emergency situations".
COVISHIELD vaccine
Somani said Pune-based SII's shot is a Recombinant Chimpanzee Adenovirus vector vaccine (Covishield), encoding the SARS-CoV-2 Spike (S) glycoprotein with technology transfer from AstraZeneca/Oxford University.

"The firm submitted safety, immunogenicity and efficacy data generated on 23,745 participants aged 18 years or older from overseas clinical studies. The overall vaccine efficacy was found to be 70.42 per cent," Somani said.

Further, Serum was granted permission to conduct Phase-2/3 clinical trials on 1,00 participants within the country, he said. "The firm also submitted the interim safety and immunogenicity data generated from this trial and the data was found comparable with the data from the overseas clinical studies."

"The clinical trial ongoing within the country by the firm will continue," he said, adding permission has been granted to Cadila Healthcare to conduct the Phase III clinical trial of its vaccine candidate in India.
"In terms of safety, Covishield was well tolerated, is safe and can be used effectively for prevention of COVID-19 in the targeted population," the EUA application signed by Prakash Kumar Singh, Additional Director, Government and Regulatory Affairs at Serum Institute of India (SII), had stated.
COVAXIN vaccine
"Bharat Biotech has developed a Whole Virion Inactivated Coronavirus Vaccine (Covaxin) in collaboration with ICMR and NIV (Pune), from where they received the virus seed strains. This vaccine is developed on the Vero cell platform, which has a well established track record of safety and efficacy in the country & globally," Dr Somani said.

In terms of safety concern, safety and immunogenicity data was generated in various animal species such as mice, rats, rabbits, Syrian hamster. Challenge studies were conducted on non-human primates (Rhesus macaques) and hamsters.
The Phase 1 and Phase 2 clinical trials in India were conducted on nearly 800 subjects. The results showed vaccine is safe and provides a robust immune response, he said.
The Phase 3 efficacy trial was initiated on 25,800 participants and till date, 22,500 of them have been vaccinated across the country and the vaccine has been found to be safe as per the data available till date, Somani said.

"The SEC has reviewed the data on safety and immunogenicity of the vaccine and recommended for grant of permission for restricted use in emergency situation in public interest as an abundant precaution, in clinical trial mode, to have more options for vaccinations, especially in case of infection by mutant strains. The clinical trial ongoing within the country by the firm will continue," he said.
Cost of COVID-19 Vaccine in India
On January 2, Union Health Minister Harsh Vardhan announced that COVID-19 vaccine will be free of cost across the country. He said one crore healthcare workers and two crore frontline workers would be given free vaccine in the first phase of the COVID-19 vaccination drive. The union health minister added that the details of how the remaining 27 crore priority beneficiaries will be vaccinated till July are being finalised.
"In 1st phase of #COVID19Vaccination free #vaccine shall be provided across the nation to most prioritised beneficiaries that incl 1 crore healthcare & 2 crore frontline workers. Details of how further 27 cr priority beneficiaries are to be vaccinated until July are being finalised," the minister tweeted.
How many people will be vaccinated with COVID-19 vaccines in India in first phase?
India has set a target to vaccinate 30 crore people during the first phase of the vaccination programme.
The COVID-19 vaccination programme will begin with an estimated one crore healthcare workers, two crore frontline workers and 27 crore prioritise age groups persons above 50 years of age and persons younger than 50 years of age with underlying and co-morbidities based on evolving pandemic situation.
How safe is COVID-19 vaccine?
Meanwhile, the union health minister assured the efficacy and safety of the COVID-19 vaccine and urged the public not to be misguided by anti-vaccine rumours.
"Vaccine hesitancy was an issue even when we started polio immunisation drive but we must remember its success. I appeal to the people not to be misguided by rumours regarding safety & efficacy of #COVID19vaccine. We will not compromise on any protocol before approving a vaccine," Vardhan tweeted.
The union health minister visited GTB Hospital in Delhi to review the dry run drill for COVID-19 vaccine administration on Saturday.