Three vehicle lifters have been arrested and six vehicles recovered, said Imphal West district Superintendent of Police K Meghachandra said on Saturday.
Addressing the media at the City Police Station in Imphal, Meghachandra said the recovered vehicles included five EECO vans and a Maruti Alto car.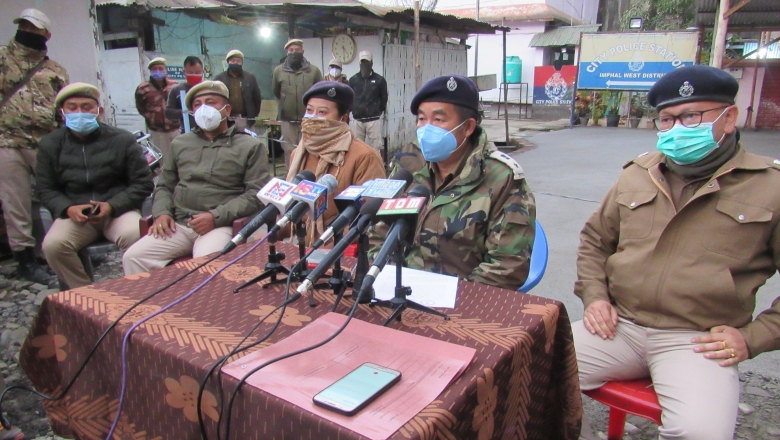 Imphal West SP K Meghachandra addresses media (PHOTO: IFP)
The vehicle lifters have been identified as one Keshtrimayum Victor alias Boi, 46, son of Ksh Ibohal of Singjamei Chingamakha Keshtri leikai, Imphal West; Roshan Yumnam, 50, son of late Y Manihar Singh of Singjamei Yumnam Leikai presently staying at Mahabali Kabui Khul and Mangpu Misao, 59, son of late Limkhohen Misao of Haokip Veng, Sanjenthong, Imphal East.
Advertisement
Meghachandra said some recent reports of vehicles being stolen, particularly of an EECO Van were received from different areas of Imphal especially from Thangal and Paona Bazar, Imphal.
To tackle the increasing number of stolen EECO van cases, a special police team along with Imphal West district police officials in civil dresses was formed under the strict supervision of district SP and SDPO, Imphal and officer-in-charge, City police station, he added.
The team was engaged in keeping a strict vigil in and around the Thangal and Paona Bazar areas and collected CCTV footage from the relevant areas where the thefts took place.
Meghachandra further said that on analyzing the CCTV video footage, it was revealed that an unknown person committed the crime by using one Alto car bearing registration number MN-06-LA-6827. After identifying the registration number of the Alto car, the team established its owner and user as one Victor.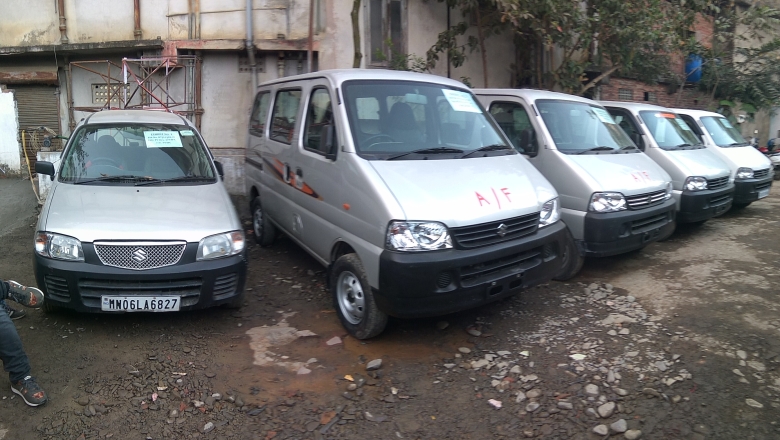 The recovered vehicles (PHOTO: IFP)
Advertisement
On Thursday, a team of city police station along with an escort party of additional superintendent of police (law and order), Imphal West district raided the residence of Victor. He was arrested at about 11.45 pm. The Alto car, which was used while committing the crime, was also recovered from the residence of Victor, said Meghachandra.
In a follow-up action, two accomplices namely, Roshan and Mangpu were arrested on Friday. From their disclosure, four ECCO Vans were recovered, he mentioned. Of the four EECO vans, three of them (silver in colour) were recovered without registration number plates except for one bearing registration number MN0G-0844, white in colour, he said.
He said the arrested persons were remanded into police custody for a period of six days till December 22 in connection with FIR number 87(12)2020 City PS U/S 379 IPC.
Imphal West SP said the accused persons went in groups on the vehicle (Alto car) and searched for newly bought EECO vans which are parked in the bazaar area. After finding such vehicles, they first broke the fuel lock of the vehicle. The vehicle lifters prepared duplicate keys within 20-30 minutes from the fuel caps and used them to open the vehicle, he said. After lifting the vehicles, they search for a suitable buyer who would buy them.
The district police have launched an investigation to find out involved persons in the group of vehicle lifters, he said, adding some buyers of the stolen vehicles will also be arrested within a short period of time, said Meghachandra. The SP appealed the people to be cautious while parking their vehicles and to lock them for safety.
Advertisement