The foundation stone of Motbung Bailey Bridge over Imphal River in Kangpokpi district was laid on Friday by Works Minister Thongam Biswajit Singh who assured completion of the project by 2022. 
Addressing the foundation stone laying ceremony, which was organised by the Public Works department, the minister said the bridge connects National Highway 2 to Pukhao Kanglatongbi, and it is a major connectivity point for the surrounding villages. He also assured to take up work on the 21-km-long road connecting the highway to Pukhao Kanglatongbi at the earliest.
Biswajit expressed the hope that the engineers will supervise the construction work of the bridge, ensuring quality maintenance and timely completion of the bridge.
Advertisement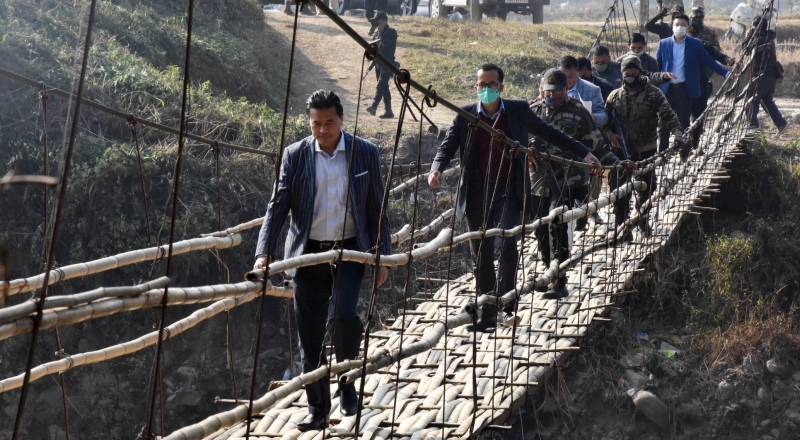 The reconstruction of the bridge will improve connectivity from the National Highway 2 to villages like Thingsat, N Khobung, Ballot and N Chaljang located on the eastern side of the river. It may be mentioned that the old bridge was washed away by flood in 2015.
PHED, Printing and Stationery Minister L Dikho said that to bring development in the state it is necessary to maintain peace. Bandhs and blockades cause huge loss of revenue, he said, adding that if we continue with the bandh, blockade culture, we can never see progress. He also assured to look into the provision of drinking water in the area by taking up necessary measures for the welfare of the people.
Advertisement
Saitu MLA Ngamthang Haokip said the area is inhabited by different communities, and the bridge is important for connectivity in the area. He said it is the responsibility of the people of the area to ensure that there is no disturbance during the construction work period.
The project will also include the construction of Abutment, wing walls, retaining walls. The foundation stone laying programme was also attended by ADC members, Chief Engineer Buildings PWD N Noren, the village chief and others. 
Advertisement