Northeast
Bharat Bandh in Northeast India: Protesters burn PM Modi's effigy in Assam; Manipur, Meghalaya peaceful
Although the nationwide shutdown called by the farmers' unions hit Assam, it failed to evoke response in most of the NE states.
Updated on 8 Dec 2020, 5:43 pm
The Bharat bandh, nationwide shutdown, called by the farmers' unions demanding the repeal of the Centre's farm laws hit normal life in Assam and witnessed a protest demonstration in Manipur, while it failed to draw much response in other states of Northeast India.
In Manipur, the Manipur Loumee Marup (Manipur farmers' body) members demonstrated their support to the Bharat bandh in front of the CPI office, Irawat Bhawan, at Thangal Bazaar in Imphal, and demanded the repeal of the farm laws. However, normal life in the state was unaffected and the day passed off peacefully
In Assam, which has always been in the forefront of agitations, 15 organisations extended support to the Bharat bandh and imposed restrictions in public transport services and all other vehicular movements across the state. The organisations included the Congress, AIUDF, Asom Jatiya Parishad (AJP), Krishak Mukti Sangram Samiti (KMSS) and Left parties.
Business houses, shops, markets and educational institutions remained closed in most parts of the state, including Guwahati.
The state also witnessed violent incidents in some parts of Sivasagar district, where protesters burned tyres and blocked roads in several parts of the district. In Karimganj district, protesters burned the effigy of Prime Minister Narendra Modi, according to reports.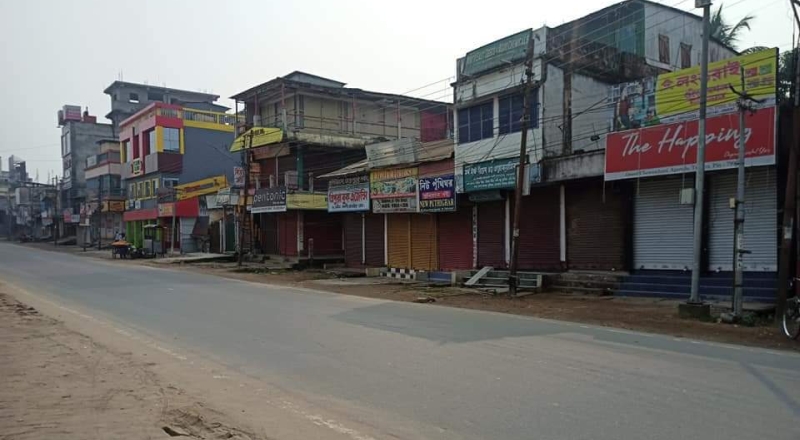 Bharat bandh in Tripura (PHOTO: Twitter/@CPIMWestTripura)
However, other states, including Meghalaya and Tripura, remained peaceful as normal life was unaffected by the bandh call. All offices, institutions, business houses, shops and markets remained open in these states. All vehicular movements faced no restrictions and vehicles plied on the road as usual as the shutdown call evoked no response till noon.
Protesting against the Centre's farm laws, the farmers in the border of Delhi has been holding agitation since the last 10 days. Intensifying ist demand for the repeal of the farm laws, the farmers' unions called for the nationwide shutdown Tuesday from 11 am to 3 pm.