Crushing the grey and gloomy COVID-19 pandemic air and setting a sort of trend in Manipur, female voters wearing bright and colourful clothes and facemasks turned out in high number and brightened the by-elections in four assembly constituencies of Manipur Saturday.
A group of girls, expressing solidarity to the democratic spirit of the by-elections day, wore white and green ethnic clothes to cast their votes, while another group of women were seen with all yellow facemasks and bright ethnic wears queing up to vote.
The polling that began at 7 am progressed peacefully and by 3 pm an estimated 82.06 per cent voters turnout was recorded, up from 64.97 per cent voters' turnout at 1 pm, as reported by the state CEO office. Lilong reported 65.91 per cent while Wangjing Tentha noted 66.41 per cent at 1 pm. At 12 noon, an estimated total 43.53 per cent voters turned out.
At 3 pm, Lilong witnessed an estimated 87.32 per cent voters' turnout, while Saitu saw 81.79 per cent turnout, Wangjin Tentha 80.58 per cent and Wangoi 77.97 per cent, the state CEO office stated. The polling will conclude at 5 pm Saturday.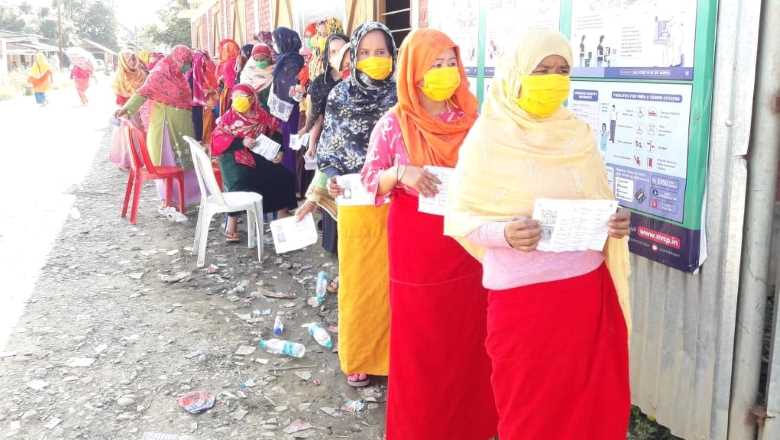 Advertisement
The polling is being conducted by strictly adhering to the COVID-19 protocol issued by the Chief Election Commissioner of India. Essential items such as face masks, hand sanitizers and hand gloves were distributed to the voters at all polling booths by the ASHA and Anganwadi workers as a precautionary measure to prevent the spread of COVID-19 during elections.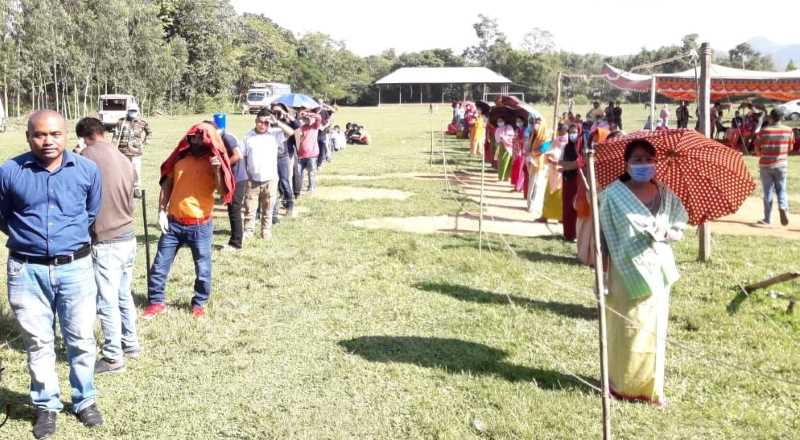 However, at Saitu assembly constituency in Kangpokpi district, voters thronged the polling booth at the Presidency College in large number, disregarding the much-needed COVID-19 protocol issued by the ECI. In all, 70 polling stations are being installed in the constiuency for the 40,257 eligible voters to exercise their franchise on Saturday.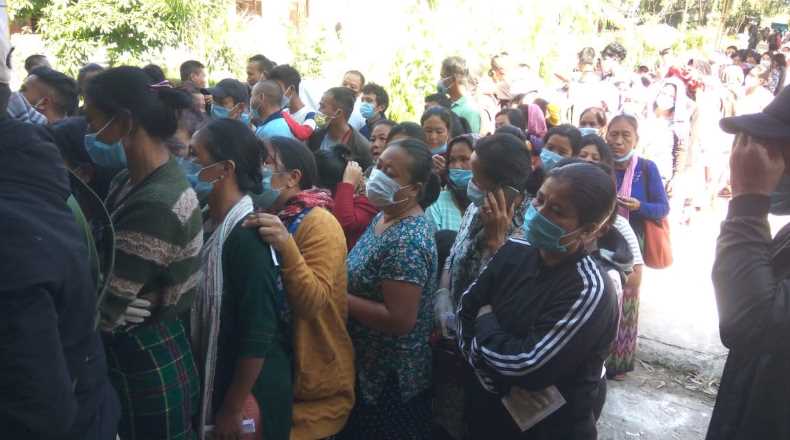 Over 1.35 lakhs voters will seal the fate of the following 11 candidates in the fray.
In Wangoi - Onaim Lukhoi Singh of the BJP, Khuraijam Loken Singh of the NPP and Salam Joy Singh of the INC
In Lilong - Md Abdul Nasir -Independnet, Y Antas Khan -Independent and Me Azizul Haque Khan of the INC
Advertisement
In Wangjing Tentha- Paonam Brojen of the BJP, Moirangthem Hemanta Singh of the INC and Sarangthem Manaobi - Independent
In Saitu - Ngamthang Haokip of the BJP and Lamtinthang Haokip of INC.
The counting of the votes will be conducted on November 10.
It may be noted that the ECI had scheduled by-polls in five constituencies namely Saitu, Singhat, Lilong, Wanjing Tentha and Wangoi. However, BJP candidate Shri Ginsuanhau Zou @ GS Haupu was elected unopposed from Singhat AC (ST) after Independent candidate Chinlunthang withdrew his nomination.
READ MORE
Advertisement