Sitting on a mat aside a wooden plank with a bicycle rims as its stand made as a table by her father from an old wooden boat, 27-year-old Bijiyashanti Tongbram from Manipur makes fibres from lotus stem gathered from the Loktak Lake.
She along with her 10 women employees breaks the lotus stem at the length of a thumb and pulls and expands the fibre from the lotus stem. Using their palms and the wooden plank, the fibre is then hand-rolled at their desired size. The fibre extracted from the lotus stems and stalk is produced as yarns for weaving cloths, neckties and scarves on loin loom.
Bijiyashanti has found an innovative alternative means of livelihood other than fishing and selling fishes and aquatic plants found in the lake on which the indigenous people living in and around the Loktak Lake are much dependent on.
Prime Minister Narendra Modi in his Maan Ki Baat radio programme had recently appreciated Bijiyashanti for her innovative ideas. A fashion designer from Germany has also approached Bijiyashanti for her products.
Speaking exclusively to the Imphal Free Press, Bijiyashanti talks about how she started creating yarns from the lotus stem and lotus tea from the extractions of the plants. She says that it takes about a month to produce a single scarf.
Advertisement
"With the present manpower, the process starting from collecting the lotus stem, extracting the fibre sufficient to produce a single scarf and weaving takes about a month since there is less manpower".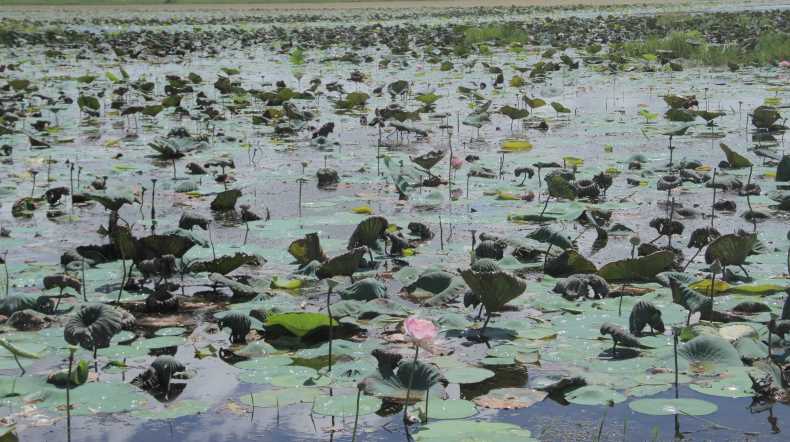 A graduate in botany honours, Bijiyashanti, who is the eldest daughter of Joykumar Tongram and Sanahal Tongbram among three siblings, resides at Thanga Tongbram village near Loktak lake under Bishnupur district in Manipur.
It was in July 2018, that Bijyashanti began to develop the idea of collecting different varieties of lotus to establish agro tourism. She learned about the medicinal value of lotus during her graduation. However, due to lack of machineries, she could not put her ideas into reality and she had to approach the livelihood incubator centre in Churachandpur district to develop tea leaves from Lotus.
Bijyashanti also informed that she has already sent her finished product to Gujarat for lab testing and to analyse her product. Bijiya said, "I want to explore the medicinal values of different plants growing in Loktak lake which the locals are not aware about".
Later, after a family friend informed her about the possibilities of developing other products from Lotus fibre, Bijyashanti joined entrepreneurships training and programmes on aromatic and medicinal plants organised by Micro Small and Medium Enterprises. She also began her own research work by reading journals and the internet.
She then began extracting fibres from Lotus in 2018 after which she also started full-fledged work of developing clothes and other products along with local women in May, 2019.
Bijiyashanti said that she received mixed responses from the people when she pitched her ideas about developing clothes from Lotus fibre.
Advertisement
"There are people who question the durability of clothes made out of Lotus fibre. However, many people have encouraged my venture and given positive feedback," she said.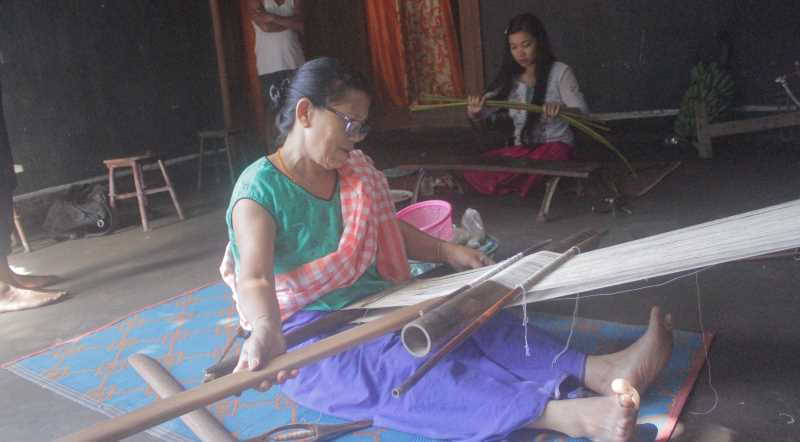 Owing to the pandemic, they have to stop the production for some time. However, they have continued the production by following the SOP issued by the government.
Apart from employing 10 women of her village under her company Sanajing Sana Thambal, she also gave training to women in other districts where Lotus are available. In areas where lotus is not available, she would also give them the lotus stem and other required equipment for production and in return buy the fibres from them.
"Some people from other states have started demanding the finished products after the Prime Minister of India mentioned about my venture in his radio programme, Maan Ki Baat. Some of them have asked for a mask, muffler and scarf from the lotus fibre," Bijiyashanti said.
Bijiyashanti is hopeful that there is enough market for her finished products. However, she said that she has not been able to export at present because she still could not produce more products due to lack of manpower.
Recently, Bijiyashanti was selected for Start-Up Manipur under the category of agro tourism and its products from aquatic plants.  Apart from that she was also selected among the Her and Now incubation programme along with 13 other women in the state.
Advertisement