Several springs in Ukhrul district of Manipur have become seasonal since the last few years while some have started dying, resulting in many regions of the district facing water scarcity problem.
Springs play a crucial role to thousands of rural populations, particularly in hill areas for their daily domestic purposes. Apart from this, it is a source for many water bodies such as rivers, lakes and ponds. However, such natural sources in Ukhrul are getting depleted, like in the Indian Himalayan regions.
Three years ago, the National Institution for Transforming India (NITI) Aayog had reported that there are five  million springs in India of which three millions are located in Indian Himalayan Region (IHR). But half of the springs are depleted with change of climate, rising temperatures, rise in rainfall intensity and reduction in its temporal spread as well as marked decline in rainwater.
Manipur, being among 12 states of IHR, has been witnessing dying of such natural resources which is a source for many water bodies such as river, lakes, ponds etc. The report of NITI Aayog said that 54.4 per cent of villages (which is 1,405 villages out of total villages of 2,581) have springs.
Considering springs drying up as a serious cause of concern, some initiatives have been started which will directly or indirectly help to replenish spring water.
A three-year project called "Gap Funding for Watershed and Springshed Management for Watershed Management in Manipur" has been carried out under the sponsorship of North Eastern Council from the year 2017 to 2018 to 2021 to 2022 by State Level Nodal Agency for Watershed Manager, Manipur.
Under this project, two villages each from eight districts such as Senapati, Churachandpur, Chandel, Ukhrul, Noney, Imphal East and Imphal West and one village each from Thoubal and Kakching have been selected as project areas.
Advertisement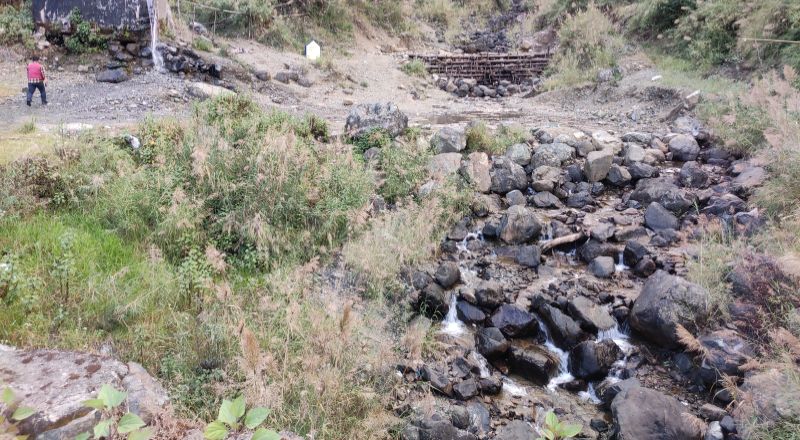 (PHOTO: IFP)
The project emphasises on watershed development work, integrated farming, springshed management and promotion of horticulture, agriculture and its allied sector.
Besides this, pilot project for replenishment of water sources has been started by directorate of Environment and Climate Change in association with Advanced Centre for Water Resources Development and Management (ACWADAM), International Centre for Integrated Mountain Development (ICIMOD) and Swiss Agency for Development and Corporation (SDC) in Lungar Village of Ukrhul district.
Akhan Kazangmei, one of the villagers of Lunghar, who is also member of Volunteers for Village Development (VVD), an NGO based in Ukhrul, said that taking up dying of spring as a serious cause of concern, spring identification survey was carried out in Ukhrul. In their survey, they found 188 springs in the district. In Lunghar village itself, there are 26 springs and out of it four had dried up, he said.
He further informed that of the total springs available in the district, 60 per cent of them have become seasonal since the past 5-10 years while the remaining are perennial. But all the springs were once perennial and the villagers never experienced water shortage at one point of time.
Pastor of Lungar Village, Maningakhui Ragui said that nowadays villagers have started realising the depletion of water source is closely associated with the forest degradation. As such, the village has taken up various awareness programmes in connection with conservation of forest. From a couple of years back, villagers used to observe World Earth Day and World Environment Day to disseminate about maintaining the environment and its ecology.
Such programme was also held on friendship day. Apart from this, the villagers also conducted a programme on changing traditional mode of agricultural practices to climate resilient methods, he added.
He said that the water scarcity problem is not that extreme right now as they are receiving enough for now but lamented that they are getting less amount of water compared to the last 10-15 years. If intervention is not made in the right time, the situation would surely reach a severe level, Ragui pointed out.
Advertisement
Mentioning some of the suggestions to reduce deforestation, he said that jhum cultivation is one such undeniable reason. As agriculture is the main source of income for the villagers, the state government should consider providing an alternative source of livelihood suitable for the villagers, he said.
Hydrogeologist Himanshu Kulkarni said that there is clear evidence of drying of spring water in North eastern states of India.  Depletion of spring will directly impact villagers where spring is used as the primary source of water.
He pointed out that change in precipitation pattern, change in land use pattern, depletion of aquifers are some of the factors leading to drying up of spring in various parts of Indian Himalayan regions.
Some of the very steps that can be taken up to replenish the spring are, he said, to identify the springs, to monitor and measure quantity of water produced by those springs, understand the condition of the aquifer through the science of hydrogeology and chart out a strategies of spring conservation based on mentioned findings.
He further said that the role of community participation is highly needed to conserve the said natural resources. As such, it is also essential to figure out whether villagers had taken up any initiatives to conserve the spring. If they do, their method should also be incorporated while taking up any steps of spring rejuvenation by the authority concerned.
As we know that life without water is impossible and because of it, earth is the only planet where humans can survive. But water scarcity is becoming a major climate change induced issue. For the sake of future generations, collective effort from citizens from every walk of life is of utmost importance to address the issue.
Advertisement