Northeast
Mera Houchongba celebrated with pomp and gaiety in Manipur
Mera Houchongba, the festival of oneness and brotherhood between the hill and valley people of Manipur, is observed on the 15th day of Mera (October in Meitei calendar).
Updated on 21 Oct 2021, 4:22 am
Mera Houchongba, the festival of oneness and brotherhood among people of different ethnic communities of Manipur was celebrated with pomp, gaiety and traditional fervour at Lainingthou Sanamahi Temple, Haying Khongban on Wednesday with Chief Minister N Biren Singh as chief guest and Rajya Sabha MP Sanajaoba Leishemba as functional president.
The celebration was jointly organised by Lainingthou Sanamahi Temple Board and Uttra Shanglen Sana Konung (Royal Palace).
The celebration was also attended by State Planning Board deputy chairman, L Rameshwor Meetei; former minister, RV Mingthing; All India RSS PRO, Sunil Despande; Assam Zone pracharak, Pramukh Ashokan Kusaliyat.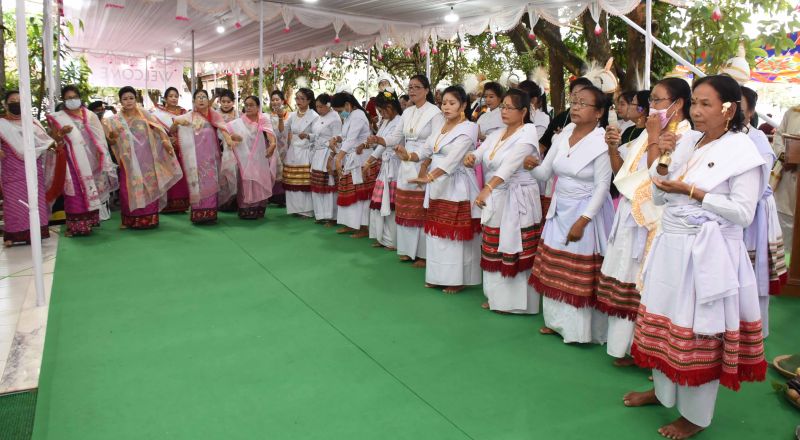 (PHOTO: IFP)
The programme began with ritual functions in the morning such as Mera Men Tongba, Thaomei Thanba, Yenkhong Tamba and Pot Lannaba (exchange of gifts) between hill and valley people that symbolises long lasting brotherhood.
The ritual function was conducted at Sana Konung, Kangla and the formal function was held at Lainingthou Sanamahi Temple where various cultural programmes were showcased.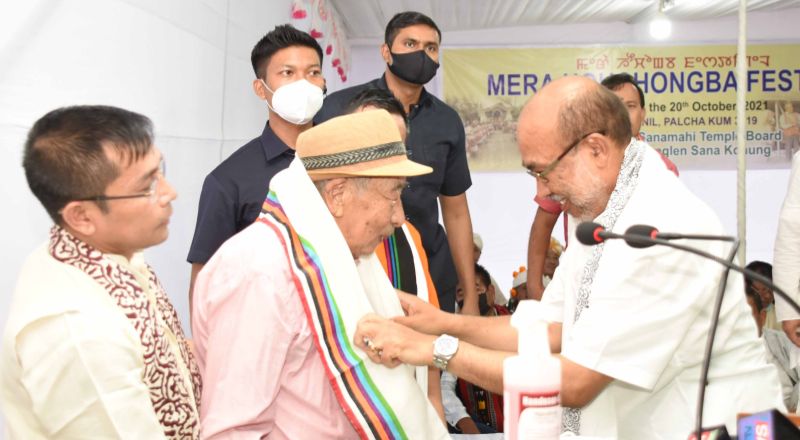 (PHOTO: IFP)
Biren exchanged gifts with RV Mingthing while Sunil Despande exchanged gifts with Tangkhul Naga Long former president Hopingson Shimray. Sanajaoba Leishemba also exchanged gifts with Ningthoupham village chief, BK John Thangal.
During the occasion, the chief minister said that the restoration of good relations between hill and valley has been a main priority of the BJP-led government as this aged old relation cannot be broken by any forces.
He also accused a few politicians who purposely tried to disintegrate the unity of the state for their personal interest.
"It is now time to discard the sense of disintegration and work together for a united Manipur and India. Different organisations and institutions used to celebrate the festival independently at different locations. However, the present state government had convinced them to come together to organise it as a grand festival in 2017. Since then, the festival has been celebrated as a state level function," said Biren.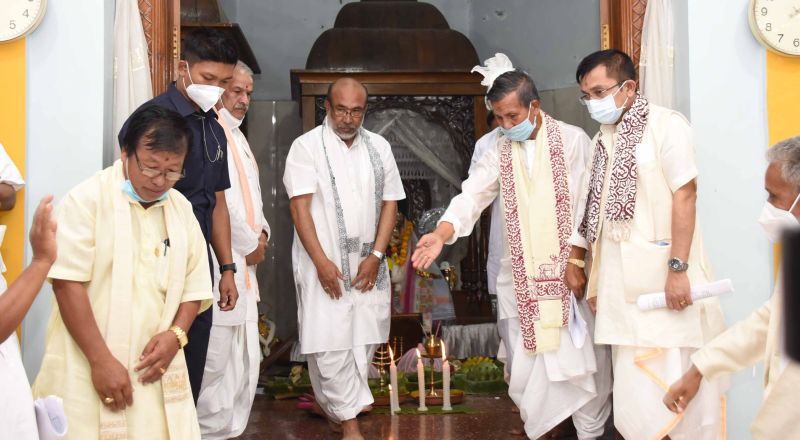 (PHOTO: IFP)
This year, the celebration has been toned down due to COVID-19 pandemic. However, it could not be called off considering its significance in building up fraternal bonds among different communities, he added.
Recalling the day when hill people came to Imphal to distribute edible items during the crucial time of COVID-19 pandemic, Biren said that it was an unforgettable moment that was meant to take forward the strong relationship between hill and valley unchanged.
RV Mingthing said that the state could bring immense development if there is unity and integrity between hill and valley. People of the state should focus on maintaining this aged old relationship.
He also appreciated the chief minister for being able to implement the Inner Line Permit system during his period.
He pointed out that hills and valleys can never be disintegrated as they are interdependent in cultural and ritual activities. Lai Haraona festival of Meitei is one such example.
It may be mentioned that Mera Houchongba, the centuries old festival of Manipur, reminds the strong bonding of brotherhood between the hill and valley people of Manipur. It has been observed on the 15th day of Mera (October in Meitei calendar) since time immemorial. The day was declared a state holiday by the then governor ON Shrivastava.
First published:20 Oct 2021, 7:22 pm
Tags: