Manipur joined the rest of the world in celebrating the World Migratory Bird Day by organising it at Champu Khangpok, the floating village at Loktak Lake on Saturday.
The event was organised by All Loktak Lake Areas Fisheries Union Manipur (ALLAFUM) in partnership with Ngamee Lup, Pumlen Pat Khoidum Lamjao Kanba Apunba Lup, Environment Support Group and Indigenous Perspectives.
During the observation, ALLAFUM secretary Oinam Rajen said that people of Loktak lake can no longer remain as mute spectators when it comes to protecting Loktak as many corporate bodies and private companies are ready to take charge of the lake. Merely making statements such as "Loktak is our ancestral lake" will not protect it from corporate bodies, he said.
Advertisement
He said that the lake has been enlisted among the RAMSAR sites and therefore, the points defined by RAMSAR convention such as the protection of migratory birds as a means to protect the lake should be maintained.
Entry of boats at some parts of the Loktak lake may no longer be possible if corporate, private companies take charge, he said. In such a scenario, the livelihood of fishermen may become limited and they may start paying taxes for entering the lake for fishing, he said. Before facing such situations, the communities of the Loktak lake must start taking efforts to protect the migratory birds that come at the lake, Rajen added.
He said Loktak is a Ramsar site and it hosts a wide variety of migratory waterbirds between October and February every year. The event is being organised with the objective of raising awareness on protection and conservation of these long distance flying, winter visitors, he said. Manipur is covered under Central Asian-Indian Flyway and East Asian-Australasia Flyway, he added.
The day is being observed worldwide to give emphasis on the significance of migratory waterbirds as biological indicators defining health conditions of wetland ecosystems around the globe.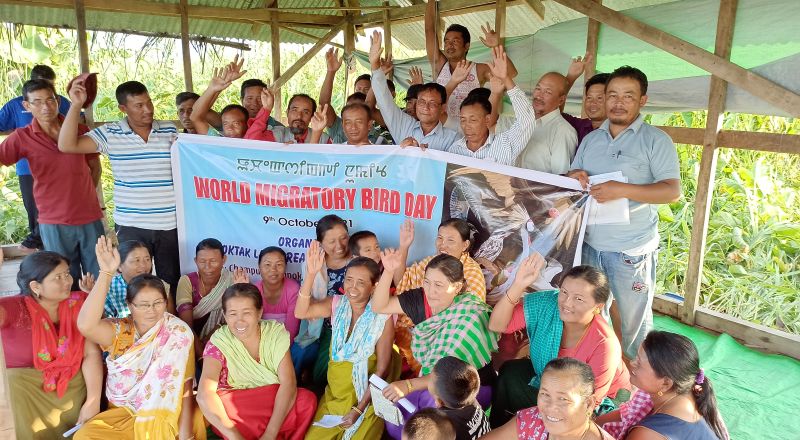 (PHOTO: IFP)
Advertisement
Taking part in the observation, Indigenous Perspective director Ramananda Wangkheirakpam expressed that protection and conservation of migratory waterbirds needs to be taken up by the local communities. The government should start giving priorities to community involvement in conceptualisation of development plans, he added.
Pointing out that Ramsar site gives importance to protection of migratory birds, he said that the role of birds on biodiversity is extremely important.  "People may be unaware but plantation of trees or fruits from other states in our state is done by migratory birds. Birds play a big role in planting trees," Ram added.
During the event, ornithologist S Subramanya talked online about birds and their habitats. He explained about the nature of protecting birds at RAMSAR sites.
Pumlen Pat Khoidum Lamjao Kanba Lup secretary, Salam Joy and members of the organisation were present on the observation. Localities of Champu Khangpok also attended the observation.
Advertisement