Mandarin duck, world's rarest duck, locally known "Sana Manbi Nganu" has been sighted in Manipur, at a wetland in Lamphelpat of Imphal West district.
A lone Mandarin duck (Aix galericulata), which is classified under 'Least Concern' in the extinction hierarchy of the International Union for Conservation of Nature (IUCN), was spotted at Lamphelpat on February 11 at around 8 am by a bird lover group (Chekla team) member K Jogamani Sharma.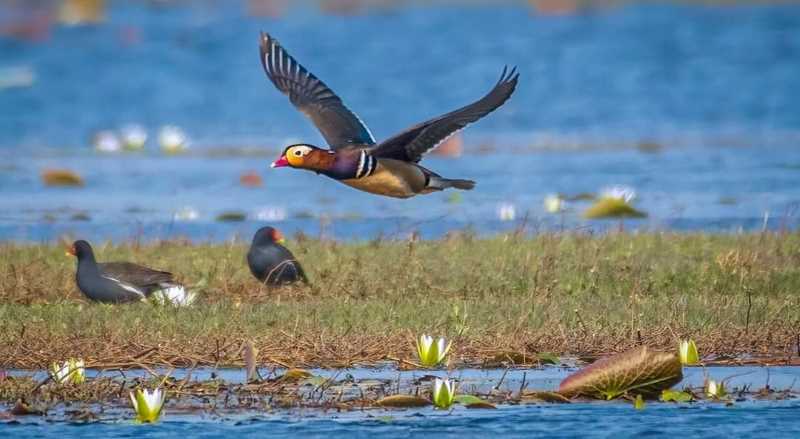 According to the IUCN report, the Mandarin duck population is on decline, so it might want to keep an eye on their status in upcoming years.
Experts state that this species does not usually visit India. It is primarily found in East Asia and over the years, has migrated to North Eastern China, Korea and Japan.
Advertisement
Referring to the appearance of the duck, environmentalist Khangembam Samungou said that the rare duck, Mandarin duck (Aix galericulata) belonging to the family of Anatidae was recorded on 1939 at Mayangkhang, Senapati side according to records.
The duck was brought and reared in Manipur Zoological Garden for public exhibit sometime in 2009, but it reportedly died on March 1, 2010.
Further, in 2007, it was sighted at Keibul Lamjao National Park and again sighted by a team of ornithologists, researchers and environmentalist on the third day of their 10-day long study on the important bird areas (IBA's) of Manipur at Toubul area of Jawa Lamjao, Loktak lake on 2013.
The following year, in February 2014, the mandarin duck was sighted at the same spot during the Waterbird Census. The most recent spotting was on December 24, 2020, at Imphal River of Ithai Laikhong area (not from Loktak). In March 1934, two pairs were shot in Manipur.
Samungou said the duck rarely visits India and when it does, it is mainly in three North-eastern states namely Assam, Arunachal Pradesh and Manipur.
Advertisement
Advertisement