Environment
Wildlife Crimes in Manipur: Biodiversity committee seeks immediate government intervention
The Joint Coordination Committee on Wildlife and Biodiversity has submitted a memorandum for protection of environment and wildlife in Manipur.
Updated on 4 Jan 2022, 11:50 am
A memorandum on immediate intervention on 'Environment and wildlife crimes in the State of Manipur' was submitted to Union Minister of Environment, Forest and Climate Change Bhupender Yadav by the Joint Coordination Committee on Wildlife and Biodiversity (JCCWB) on Sunday.
The memorandum signed by convenor of JCCWB Ningthoujam Romesh Meitei drew the attention of the union minister to intervene with an immediate follow up action on crimes on environment and wildlife in the state.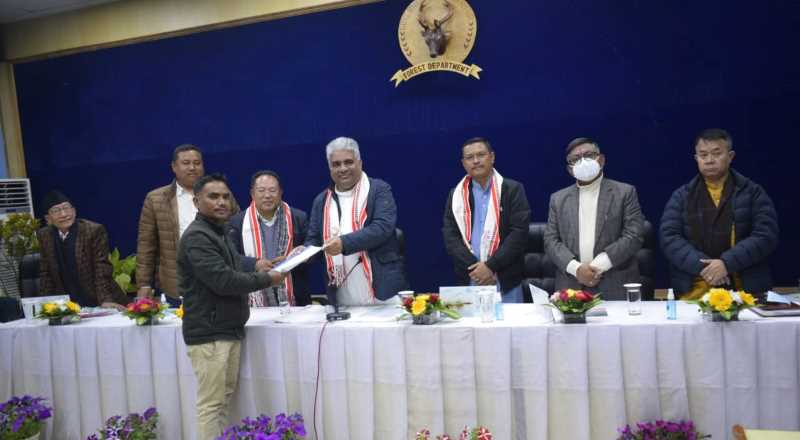 Highlighting the diverse biodiversity of endemic flora and fauna which are nurtured by the varied topography, climate and the rich cultural heritage in the state, the memorandum stressed on the continuous crimes on environment and wildlife, including deforestation, illegal excavation and encroachment of reserved areas despite the preventive efforts by State forest department, NGOs and CSOs.
Stressing on the importance of reserving these natural elements of the state, the memorandum listed core demands seeking the union minister's prompt attention and immediate intervention.
In the memorandum, the JCCWB demanded the protection of Sangai by launching Project Sangai; declaration of a Tiger Reserve under Project Tiger at Tamenglong District; immediate withdrawal of Loktak Lake from Montreux Record; and protection of migratory water-birds by declaring Bird Sanctuaries at Komlakhong side of Loktak Lake and Khangabok side of Ikop Lake.
The memorandum demanded the authority to take up stringent action to implement long term alternative livelihood policy for the tribal people involved in poppy plantation; introducing Model Green Village in every district and other recommendations to conserve the environment.
First published:3 Jan 2022, 7:24 pm
Tags: