SDVA Senapati overwhelmed TRYVC Kamjong by 3-1 sets to claim the Champion title of the 22nd Senior Women's State Level Volleyball Tournament 2023 organised by All Manipur Volleyball Association at Indoor Stadium, Khuman Lampak. 
Making good use of their tall feature, the SDVA team handled the first two sets to their liking as they took it by 25-19 and 25-19 points for the crucial lead. However, the Kamjong girls crept up and rallied hard to claim the third set by 25-15 points, to bring some relief to the team. 
However, SDVA Senapati had other ideas as they picked out pinpoint dropping of the ball, to bring the game to their hold with 25-18 points for the victory. SDVA player Beveire was chosen as best spiker while TRYVA player Soyarphy as best player.
Advertisement
Meanwhile, the Senior Men's title was claimed by YMDO Heirangoithong beating MPSC by 3-1 sets.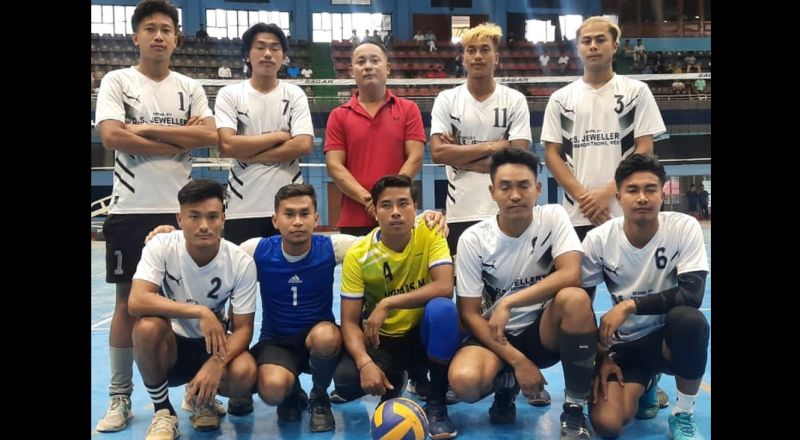 (PHOTO: IFP)
MPSC looked positive in the beginning, winning the first set by 25-22 points. However, YMDO took control of the remaining sets to unleash their fury, taking it by 25-17, 25-20 and 26-24 points for the victory.
Advertisement
The best spiker title was fetched by Robinson Gangmei of MPSC while YMDO players M. Dingku and Ghanadev got the best player and best defender titles.
As for the 22nd Sub-Junior Boys final match, AMIMYDO Mayang Imphal pounded HVA Heigrujam by 3-0 sets to lay their hand on the Champion title. AMIMYDO had an easy first set of 25-7-point victory and later on making some strong smashing they wound up with 25-22 and 25-21 points wins. 
Md W Abrahim and Md Fajhir were given best spiker and best player titles.
Advertisement