Bronze medallist in the National Power Weightlifting Championship 2022 in Kerala, Gaihutlung Panmei was felicitated by Pongringlong village authority, Rongmei Naga Students Organisation and Lu Phwam, AMN (Assam, Manipur and Nagaland) at his native place Pongringlong Charoipandongba, Kangpokpi district on Thursday.
On the occasion, Gaihutlung Panmei expressed his gratitude and happiness to all for giving him a warm welcome. He also thanked his coach for the guidance, as a result of which, he was successful in bringing laurels for the state. He expressed his gratitide for the support and love given to him by the Assam Rifles Tupul and the JNV Tamenglong during his struggle and difficulties.
Advertisement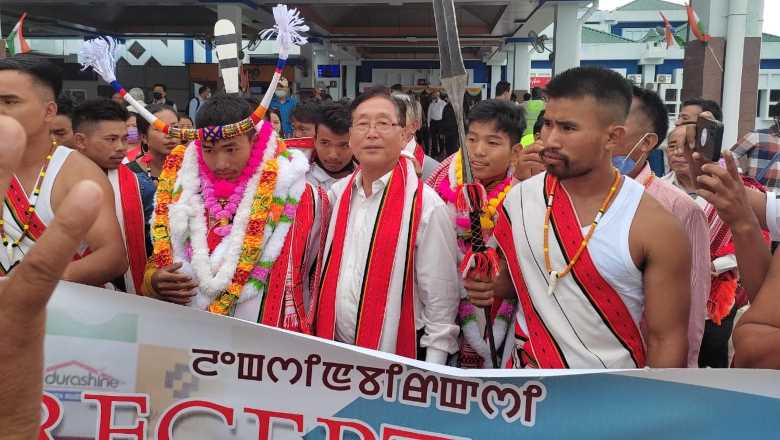 The weightlifter further appealed to Chief Minister N Biren Singh, and the elected Zeliangrong leaders including Water Resources Minister Awangbow Newmai, HAC chairman D Gangmei, and MLA Tamenglong Janghemlung Panmei for support and guidance in the upcoming Asian Championship, which is scheduled to be held in Dubai in December. 
Panmei lifted a total of 370 kg (Squat 120 kg, bench 80 kg and deadlift 170 kg) to claim his bronze medal in the 53kg sub-junior category which was recently held at Kanhangad Kasaragod in Kerala.
Panmei hails from Pongringlong Charoipandongba in Kangpokpi district. Born in a poor family, whose father is a farmer, he is currently studying in Class-12 at JNV Tamenglong. He has six brothers. 
Advertisement
From his childhood, he had a passion for sports and dreamed of becoming a sports personality. He also wanted to help his family overcome poverty. 
Before he took up weight lifting, he had a strong desire of becoming a boxer but took up weight lifting instead.
The chairmen of nearby villages, youth and women society also took part in the felicitation programme.
Advertisement