Advertisement
Manipur Police Sports Club hold on United Pukhao Sports Association by 2-2 goals to share a point each in the A Shanta Meetei Memorial Senior Women's Football League (Qualifying Round for IWL) sponsored by L Budhichandra Roy at Artificial Turf, Lamlong Thongkhong.

Manipur Police team were quick to take the lead when Th Keinakumari Chanu, caught United Pukhao defender napping, to shoot past the onrushing goalkeeper in the 3rd minute of play. However, United Pukhao players showed maturity in their move and passes, to bring up the equaliser from A Roja Devi in the 24th minute to level 1-1 goals.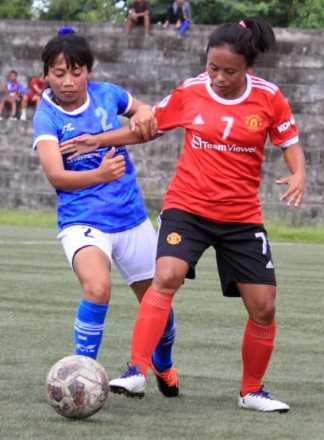 The Manipur Police who have progressed well in this season, consolidated their position when Th Keinakumari Chanu, yet again proved herself, with the second goal in the 42nd minute to enjoy the lead with 2-1 goals.

Much to the dismay of the policewomen, the hardworking United Pukhao players stood up for the moment when Lhingneilam Kipgen drew parity to the score, striking the equaliser in the 66th minute to settle for 2-2 goals and share a point each. United Pukhao player Th Babysana got a yellow card in the match for reckless foul.
 
In another match, Kangchup Road Young Physical and Sports Association, Naoremthong and Eastern Sporting Union had a goalless draw to share a point each.
Advertisement
Advertisement