Borish Pechimayum was crowned the Champion title of the senior 20th Mr Imphal East 2022 held at Ima Lai Khurembi Shanglen, Khurai Sajor Leikai Imphal East.
Competing among two other bodybuilders, Borish Pechimayum of 3 Brothers Gym, Kongpal flexed his muscle to the delight of the judges for the title while W Priyobrata of Liangtuang Kamei Foundation, Neikalong and Y Indrakumar Singh of Eastern Iron Gym, Naharup had to settled for the second and third spot.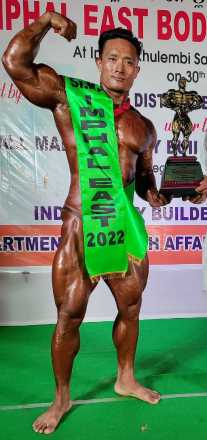 The Junior title of Mr Imphal East was bagged by Joydev Thongam of Super Gym, Khurai while Th Yaisana of Royal Gym, Ningomthong came second and Daya Laishram of Yaimbi Fitness Centre, Nongren took the third spot.
Ch Bluncely Meitei of three Brothers Gym and Kh. Saimon of Manipur Fitness Club, Nongmeibung fetched the fourth and fifth spot.
As for the Master category, Ng. Biramangol Singh of KFC Kiyamgei took the Champion title while Y. Ranjoy of Super Gym Khurai and L. Modhu of X-Fitness Wangkhei bagged the second and third spot.
Warshim Chesam of RCC Gym, YAS Khuman Lampak claimed the top spot in Men's Fitness Physique while I.Prabitro Meetei also of RCC Gym, Kheljit Thangamof T-Fit Manipur Gym, Khurai Kongpal came second and third.
UPAA Kiyamgei wins
UPAA Kiyamei beat SSC Porompat by 4-2 goals to collect a full point in the MK Ghanendrajit Memorial Super Division Football League 2022 played at Artificial Turf, Lamlong Thongkhong. In the other matches, XI Star Sporting Union and Angtha FC also had 1-1 goals while SAK Yumnam Khunou settles for 1-1 goals against PYA Kairang to share a point each and ESU Wangkhei hold on ABA Kshetrigao by 2-2 goals to share one point each.
Advertisement
Rabichandra for Jiribam
The All Manipur Football Association has appointed Irengbam Rabichandra Singh, AIFF Instructor, to conduct Referees' Refresher Cum Recruitment and AMFA Referees Development Course 2022-23 for All Jiribam Sports Association from August 1-3, 2022. 
RRCC Churchandpur enjoys 5 runs win over KIYC in Plate Tournament
RRCC Churchandpur posted 5 runs win against KIYC Kshetrigao in the 6th MNCA Plate Tournament 2021-22 played at Luwangpokpa Cricket Stadium, Luwangsangbam. RRCC had a flying start with opener L Elan Singh smashing 70 runs from 101 balls while P. Kamzamang Zou got 27 runs to post a decent total of 200 runs for 10 wickets from 35 .5 overs. Haojalen Kipgen struck 29 runs among the top run makers.
KIYC bowlers Md.Abdulla Khan claimed 4 wickets for 50 runs while Md.Abdul Hamid took 3 wickets and Md Aman bagged 2 wickets.
Chasing the target, KIYC batsman made a herculean effort with Mmd.Abdul Hamid hitting 40 runs while Md.Kurban Khan got 38 runs but fell short by 5 runs as rest of the batsman played rashed shot except for Najir Ali who remain unbeaten with 31 runs.
RRCC bowlers Pankaj Hazarika, L.Elan claimed 2 wickets each while Sahil Kumar, Thangkhopao took 1 wicket each. Later RRCC player L.Elan Singh was declared Man of the Match for his 70 runs knock and 2 wickets haul.
1st MNCA U-14 Boys Cricket: ESU Wangkhei Palace Compound records 10 wickets win over PCC Mayaikoibi in the 1st  MNCA U-14 Boys Cricket Tournament 2021-22 played at PCC Ground, Mayaikoibi.
PCC batsman made a low score of 84 runs for 10 wickets from 21 overs with Pravin Kumar top scoring with 19 runs. ESU bowler Bishomacha, Naoba Sharma claimed 3 wickets each while S.Venus took 2 wickets.
Advertisement
ESU reached the target in 11.5 overs with both opener H.Naoba Sharma making an unbeaten 35 runs and H.Donba Sharma too remaining not out with 40 runs for the victory. Naoba Sharma was adjudged Man of the Match for his 35 runs and 3 wickets.
In another match, TRAU Kwakeithel beat YPHU Lalambung by 8 wickets played at PTRC Patsoi Ground. YPHU made 165 runs for 10 wickets from 27 overs while ESU reached the target in 24 overs for the loss of 2 wickets.
Thaimei Guiganpou ES, Bishnupur emerges champions of U-17 Girls Hockey
Thaimei Guiganpou English School, Bishnupur defeated Unacco School, Imphal West by 5-1 to emerge Champion of the 28th Nehru Junior(U-17) Girls State Level Hockey Tournament 2022 played at Hockey Stadium Khuman Lampak.
Thaimei Guiganpou showed urgency in the game and proved their superiority in the first quarter itself when K.Reena pushed home a field goal in 4 minute of play and later Th.Dainali smashed home the second goal in 7 minute to take grip in the match.
However Unacco School who had been in good nick in the tournament, put up a fightback and got the breakthrough when N.Kamala drove home a penalty corner in 13 minute to trail by 1-2 goals in the first quarter.
As the second quarter failed to produce any goals, Thaimei Guiganpou raise their game and in a spate of six minute of play, they managed to bang home three goals with L.Ritu scoring in 36 minute, Th.Dainali in 38 minute and Th.Suchitra pick up the winning goal in 41 minute for the deserving victory.
By virtue of the win, Thaimei Guiganpou English School, Bishnupur will represent Manipur in the U-17 Girls category of JN Hockey at New Delhi later this year.
Advertisement