Borish Pechimayum was crowned the Champion title of the senior 20th Mr Imphal East 2022 held at Ima Lai Khurembi Shanglen, Khurai Sajor Leikai Imphal East.
Competing among two other bodybuilders, Borish Pechimayum of 3 Brothers Gym, Kongpal flexed his muscle to the delight of the judges for the title while W Priyobrata of Liangtuang Kamei Foundation, Neikalong and Y Indrakumar Singh of Eastern Iron Gym, Naharup had to settled for the second and third spot.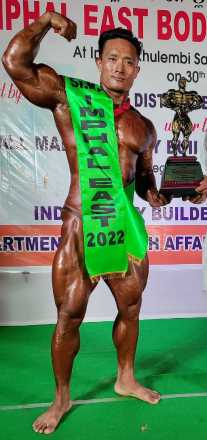 The Junior title of Mr Imphal East was bagged by Joydev Thongam of Super Gym, Khurai while Th Yaisana of Royal Gym, Ningomthong came second and Daya Laishram of Yaimbi Fitness Centre, Nongren took the third spot.
Ch Bluncely Meitei of three Brothers Gym and Kh. Saimon of Manipur Fitness Club, Nongmeibung fetched the fourth and fifth spot.
As for the Master category, Ng. Biramangol Singh of KFC Kiyamgei took the Champion title while Y. Ranjoy of Super Gym Khurai and L. Modhu of X-Fitness Wangkhei bagged the second and third spot.
Warshim Chesam of RCC Gym, YAS Khuman Lampak claimed the top spot in Men's Fitness Physique while I.Prabitro Meetei also of RCC Gym, Kheljit Thangamof T-Fit Manipur Gym, Khurai Kongpal came second and third.
UPAA Kiyamgei wins
UPAA Kiyamei beat SSC Porompat by 4-2 goals to collect a full point in the MK Ghanendrajit Memorial Super Division Football League 2022 played at Artificial Turf, Lamlong Thongkhong. In the other matches, XI Star Sporting Union and Angtha FC also had 1-1 goals while SAK Yumnam Khunou settles for 1-1 goals against PYA Kairang to share a point each and ESU Wangkhei hold on ABA Kshetrigao by 2-2 goals to share one point each.