Braving the sweltering heat, hundreds of Nagas and supporters of the Naga movement in Delhi joined the "People's Rally - A call for Peace" at Jantar Mantar in New Delhi on Saturday.

The event was organised by the Naga Students' Federation (NSF) in collaboration with the Naga Students' Union Delhi (NSUD).

Addressing the rally, NSF president Kegwayhun Tep said that "the Armed Forces Special (Powers) Act (AFSPA), 1958 is worse than the Rowlatt Act of 1919".

Pointing out that the AFSPA was and is still used against innocent Naga civilians, the NFS president recalled the incidents of the Oting Massacre on December 4 and Mon killing on December 5.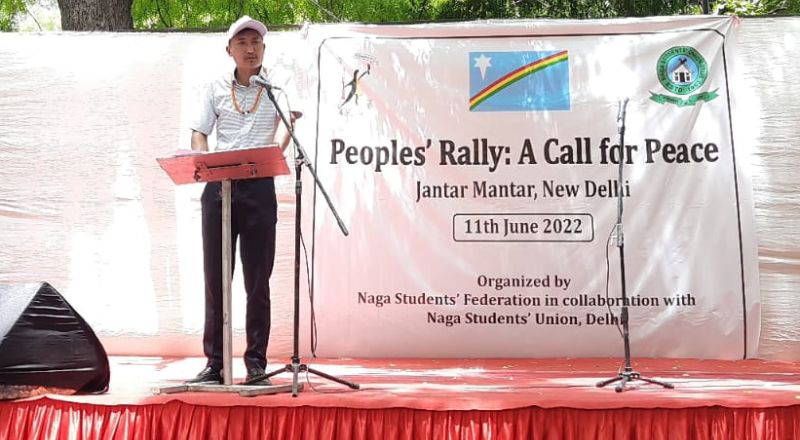 NSF president Kegwayhun Tep addressing the rally at Jantar Mantar, New Delhi (PHOTO: IFP)
"Nagas call for peace is distinctive in nature, yet not different from the universality of peace," the NSF president said and called for peace built upon justice, dignity, and equality.

The NSF president also called upon the Government of India to honour its political commitment to resolve the Indo-Naga political issue through non-violence and not through the use of force. 

A memorandum will be submitted to Prime Minister Narendra Modi as a part of the rally the organisers said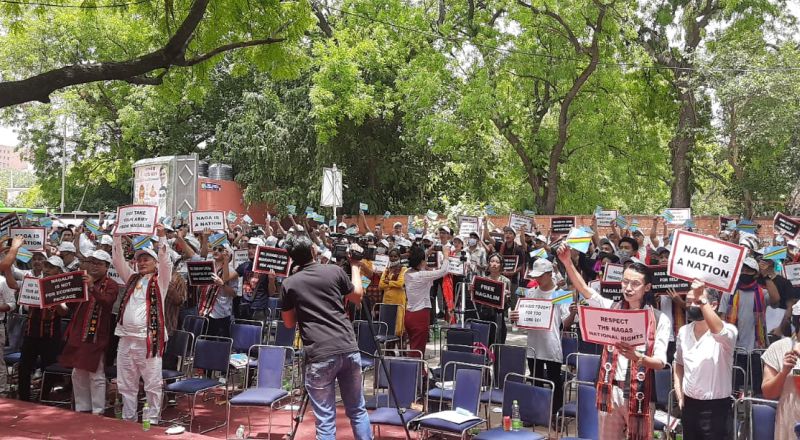 (PHOTO: IFP)
Advertisement
Meanwhile, the Naga Mothers' Association (NMA) condemned the killings of Naga civilians by the Indian armed forces. The NMA also called upon the government of India to honour the peace negotiations and bring about suitable peace in the Naga homeland by an honorable, acceptable and inclusive solution to the Naga people at the earliest.

The Naga Mothers' Association also called for the recognition of the Naga flag under which thousands have marched and laid down their lives and a working constitution that will protect the Naga identity, social, culture, traditional practices, basic Naga laws, land and resources.

The NMA reiterated the demand for the repeal of AFSPA, stating that it has violated every form of human rights in the Naga homeland. It also urged the Indian Government to respect and acknowledge women's right to peace and security

The rally, aimed at raising the legitimate concerns and aspirations of the Nagas, was joined by people of all walks of life, including students, prominent intellectuals, political leaders, and well-wishers of the Naga political movement.
WATCH: Hundreds of Nagas sloganeering during the People's Rally organised by the NSF in NSUD at JantarMantar, New Delhi
WATCH: Neingoulo Krome, secretary general of Naga People's Movement for Human Right addressing People's Rally
MUST READ: What lies beneath?
Advertisement
Advertisement