Nakamh-Riangsuanneic, Rongmei feature film, directed by Kachangthai Gonmei from Manipur in Northeast India was selected in the competition section of the International Folklore Film Festival of Kerala 2021 at Payyanur in Kannur district of Kerala.
The 120-minute-long Rongmei film received the censor certificate on February 13, 2020 and had its world premiere on Friday at the opening of the three-day International Folklore Film Festival of Kerala 2021 organised by the Kerala Folklore Academy, Chirakkal in Kannur.
Scripted, edited and produced by Kachangthai, Nakamh-Riangsuanneic was among nine films selected in the competition section, according to a release. 
Kachangthai Gonmei, who is also a local singer, debuts in the film with Achingna Kamei in lead roles.
Advertisement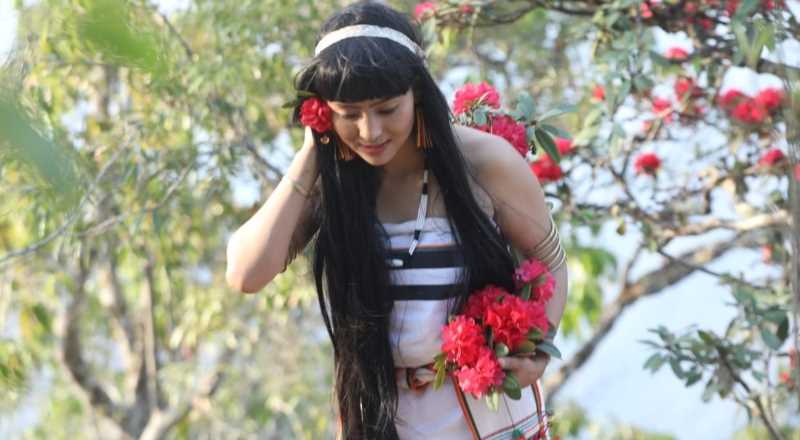 Nakamh-Riangsuanneic, based on the folklore of the Rongmei Naga community in Northeast India, tells the story of an orphan named Nikamh who lives in Makuailuangdih village in the western part of Manipur. He falls in love with Riangsuanneic, the gorgeous daughter of a rich man from the same village, with beautiful long hair and skilled in weaving. Nakamh saves Riansuanneic from the evil hands of Cachari warriors and marries her. One day, he cuts a strand of his wife's hair and rolls it in a basket, and lets it float down the Thiamga River.
A Cachari warrior finds the basket while taking a bath and brings it to the king of Cachar. The king is so impressed and he commands his warriors to find the lady with long hair, up the stream and to bring her to be his wife.
Nakamh and Riangsuanneic hear the news that the king's warriors are hunting for Riangsuanneic so they hide in the forest. During their hideout, they have a son and named him Kachana.
Advertisement
While Nakamh is out in the field, his wife is kidnapped by Cachari warriors and his son is left by the bank of Ahu (Barak) River. He follows his wife's footsteps, carrying his son. After the death of Kachana on the way, he reaches Cachar. He requests the king to give back his wife, but the king puts him to a test. Experiencing defeat, he returns home. He gathers the villagers and they wage war against the Cachar Kingdom.
Born on March 4, 1983, Kachangthai Gonmei hails from Tupul, Namduanjang in Noney district of Manipur. He is an approved singer of All India Radio.
L Hemanta and Ashing Thaimei were the cameramen while Joseph Gonmei scored the music.
Advertisement