Women vendors closed business and conducted cleanliness and beautification drive in and around Ima market areas at Khwairamband, Imphal Thursday.
The Ima market cleanliness drive was conducted in implementation of the government order for the markets to be closed every first day of the lunar calendar month for cleaning of the market areas.
Advertisement
Earlier, following the government instruction, cleanliness drive was conducted in only four Khwairamband Ima markets on the 1st day of each lunar calendar month, except on traditional occasions.
However, as per notification issued by Th Harikumar Singh, municipal commissioner, Imphal Municipal Corporation on November 10, all shops, vendors markets, including the four Ima markets at Khwairamband, Lamlong, Kongba, Singjamei, Kwakeithel, Tera Bazaar, Lamphel Super Market, Thangal Bazaar and Paona Bazaar are to remain closed every Nongma Panba (1st day of lunar calendar), except on Sajibu Nongma Panba, Engen Nongma Panba and Hiyangei Nongma Panba for the purpose of cleaning their respective shops and markets.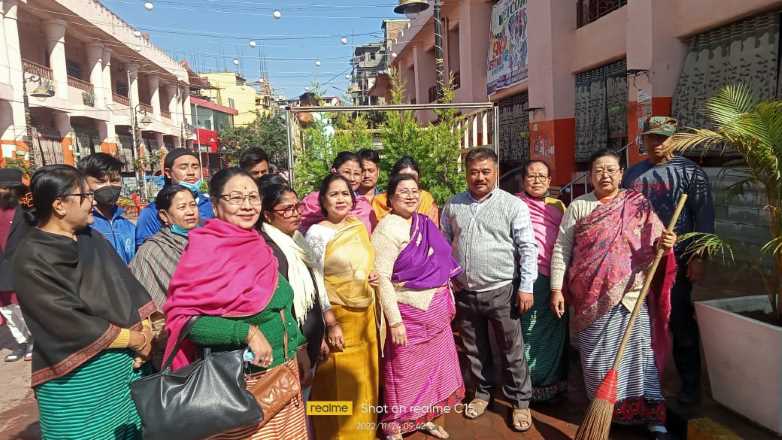 (PHOTO: IFP)
Daily wage earners, including women vendors, are earning their livelihood. But, with the government order, they have to shut down their business for a day each month.
In addition to the recent government's notification, the government had also instructed to shut down Paona and Thangal bazaar every Sunday, except for pharmacies opening along the two stretches.
Advertisement
With the closure of shops and vendors, the market places wore a deserted look. However, as most of the people were not aware of the recent government's notification, people were seen desperate.
In connection with the cleanliness drive conducted in market places, the Kangleipak Economic Development Organisation (KEDO) along with women vendors of Khwairamband Ima Market and women organisations conducted a cleanliness drive at in around Khwairamband market places.
For beautification of the market places, additional director, horticulture, K Devdutta Sharma delivered some plants to be kept at market places.
Must Read: PwD international arm-wrestler with 36 medals awaits government recognition
Advertisement