Imphal West district commando seized illegal drugs, including brown sugar and arrested three drug smugglers on two different occasions on Monday, in continuation of the police activities carried out under the state government's 'War on Drugs' campaign.
The arrested persons were identified as one Md Ajmir Hussain alias Ithem, 42, son of late Md Abdul Sattar; Md Ajmir Hussain,28 , son of  Md Siraj Ahmed and Md Majid, 43, son of Md Yaima, all from Lilong Leihaokhong Mathak Leikai in Thoubal district.
Advertisement
Police said a team of district commando, following a tip-off, detained Ithem and Ajmir at around 12.10 pm and 12.45 pm respectively from their residences after giving prior information to Thoubal district police.
One yellow colour polythene packet containing brown sugar weighing around 1.32 kg, including the weight of the plastic bag, was found from their possession.
On questioning, both of them disclosed that they are drug peddlers and they said the drugs were handed over to them by one Md Islauddin son of late Md Nahakhomei of Lilong Turel Ahanbi Khongnang Makhong to sell to willing customers.
The two detained persons were arrested at the spot, and the drugs were seized. They were handed over to Lilong police station for necessary actions.
In a separate incident, another team of Imphal West district commando at around 3.30 pm, arrested Majid from Lilong Leihaokhong in Thoubal district.
Advertisement
As many as 1,584 capsules of SPAS- OPAN C+ locally known as SP Tablet; 45 bottles of ANREX-CP Cough Syrup containing codeine phosphate IP 10mg (100ml each) and one mobile phone were seized from his possession.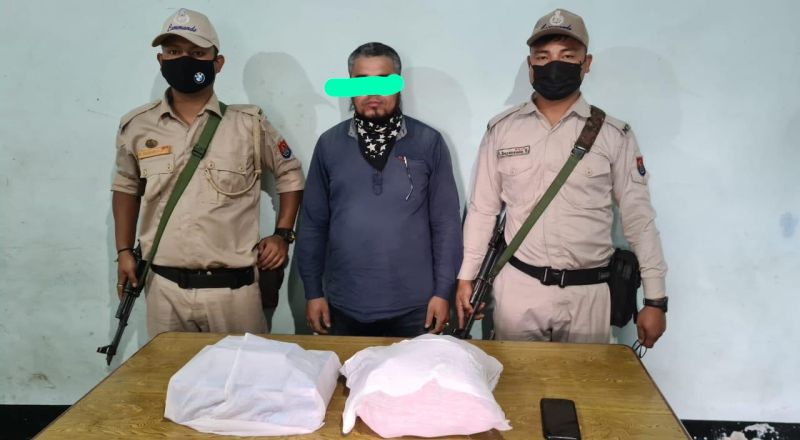 Majid further disclosed that he procured the recovered articles illegally from one MV Md Ayub, 38, son of Md Soukat Ali of Lilong Lou Manga for selling to users. He has been into drug smuggling business for a long time, police added.
The arrested person and the seized items have been handed over to Lilong police station for taking further necessary action. 
Advertisement