In violation of the government order against large gathering in view of the COVID-19 pandemic, Manipur Panchayat Parishad functionaries continued to hold sit-in protest and rally in large numbers without maintaining COVID-19 SOP at Porompat, Imphal East on Tuesday.
The protesters also took out a large rally from DC Office, Porompat, Imphal East to the Rural Development and Panchayati Raj Minister's bungalow.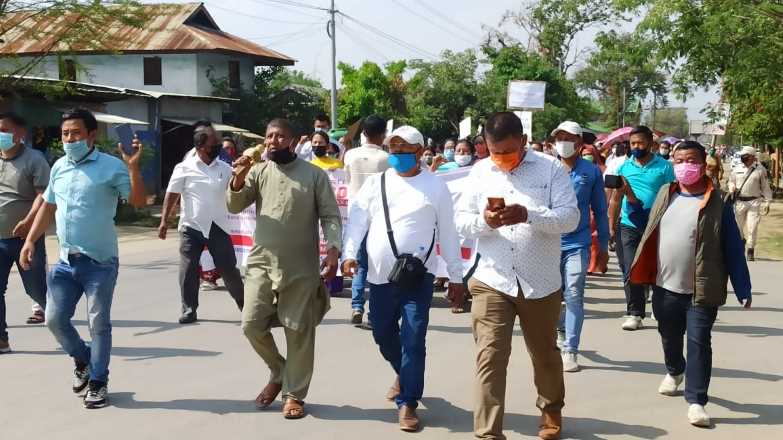 (PHOTO: IFP Image)
When asked the protesters whey they were violating the COVID-19 SOP, some of the protesters told Imphal Free Press that though they feared COVID-19 infection, they were risking their lives for the sake of all MGNREGS beneficiaries. Job card holders are charging Panchayat pradhans for misappropriating the funds without realising that the government not releasing the funds, they said.
"Who has no fear of the highly infectious COVID-19, but for the sake of job card holders, leaving behind the fear, we are raising our voice for the government to meet the demand," one of the protesters who declined to be named said.
The rally was stopped by police, blocking them frpm moving beyond the City Convention, Palace compound. Police allowed only four persons re[resentating the protesters to meet the minister.
The members of the Manipur Panchayat Parishad have been conducting sit-in protest demanding release of MGNREGS funds and airing their grievances, in front of the DC Offiee at Porompat, Imphal East since April 17.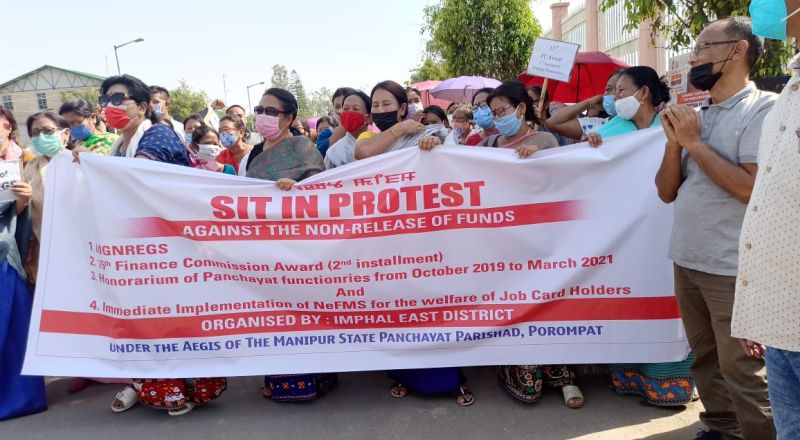 (PHOTO: IFP Image)