Education Minister Thounaojam Basantakumar on Monday said the government is working to ease the inconveniences faced by teachers when posted in schools located far away from their homes, family members and loved ones. He said teachers are also humans and want to spend time with family members and loved ones.
Speaking during the state level Teachers' Day celebration at City Convention Centre, Imphal, the education minister said the government will ensure that teachers are being posted in schools which are located closer to their homes on a requirement basis while implementing the rationalisation of posting of teachers in October.
Basantakumar said that this will be in the interest of the teachers as working for their interests ensures that the interests of students are protected as well.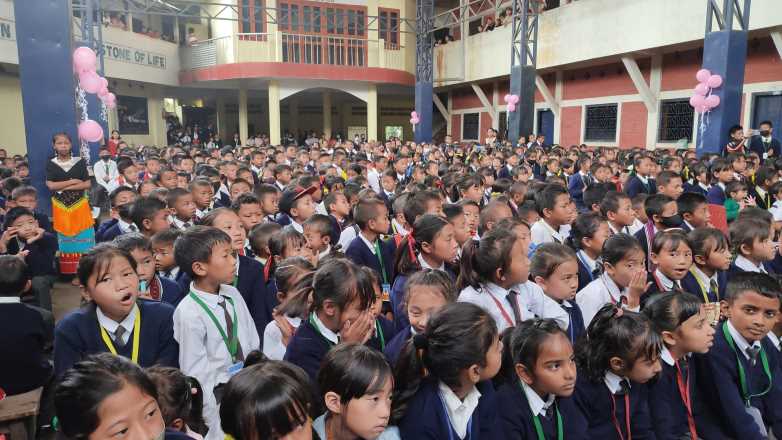 He further said that students in Manipuri society make up roughly only about 20 per cent of the population. However, this 20 per cent of the population are the ones who will decide Manipur's future, he said, adding the significance of the teachers who will be teaching the students cannot be undermined under any circumstances. 
He also exhorted all the teachers to question whether the kind of education system in Manipur is able to inspire, motivate, improve critical thinking and expand the mental horizon of the students.
PWD Minister Govindas Konthoujam, Social Welfare Minister Heikham Dingo and dignitaries present also praised the teachers for their role in shaping the society. 
Advertisement
State Award for Teachers were also conferred on seven school teachers in honour of their dedication, selfless service and innovative way of teaching.
The award winners are Chemistry lecturer Chungkham Indira of Johnstone Higher Secondary School, Headmaster in charge of Keithelmanbi Government High School Seikholen Singsit, Arts graduate teacher Yanglem Prem of Ngaikhong High School, Kharag Prasad of Bishnulal High School, Botany lecturer Oinam Arunkumari of Lilong Higher Secondary School, Kh. Neerojlata of Ibotinsana Giril Higher Secondary School and Ranjita Rajkumari of Wangkhei High School.
Five college teachers were also honored for their dedication and selfless service during the occasion. 
The government commended 48 schools that reported 100 per cent pass percentage in the High School Leaving Certificate Examination, 2022 with certificates and mementos.
Manipur University VC N Lokendra, officials of education department and teachers among others attended the function.
Meanwhile, IFP Tamenglong Correspondent added that Teacher's Day celebration was widely celebrated in Tamenglong district. It was organised by the respective schools both government run and private schools. Students performed different talent shows to honour them on their special day. Gifts were presented to their teachers in the schools. 
In a good gesture, Inriangluang Auto Association extended wishes to all the teachers and gave them free rides as a part of the Teacher's Day celebration. 
MLA Janghemlung Panmei also extended his best wishes to all the teachers in his assembly constituency.
Advertisement
Teachers' Day Celebration was also observed at different schools in Churachandpur district by organising various sports and cultural programmes as a part of the occasion on Monday.
Our Churachandpur correspondent has added that one of the oldest private schools of the district Lalpuithluaii Foundation School (LFS), Bungmual celebrated the National Teachers' Day with the students of Class X organising various cultural activities such as dance and drama performances.
Teachers' Day 2022 was celebrated with the theme 'Teacher Leading in Crisis, Reimagining the Future'.
Also Read:
Teachers Day 2022: Nongmaithem Gautam Singh from Manipur conferred NAT 2022
Dr Sarvepalli Radhakrishnan and Teacher's Day
Advertisement