The All Integrated Teachers' Association, Manipur (AITAM) on Friday launched its 2-day sit-in protest as a further course of agitation, demanding not to change their salary head of account.
The protest, which was conducted by the teachers under the umbrella association, was staged in front of the respective zonal offices.
Yumnam Satyamala Devi, a protester in front of ZEO zone II, Porompat, Imphal East told the media that "the teachers want to continue classes but to get our legitimate rights we will not withdraw the agitation until the demands are fulfilled."
She continued that following a state cabinet decision, as many as 3,480 teachers recruited under SSA and RMSA were integrated to the state Education department (school) on July 23, 2020. Since then the teachers have been getting their monthly salary from the same salary head of account, similar to the teachers employed under the state Education department, she added.
Advertisement
However, the director of the department issued an order mentioning that the 3,480 teachers will be getting their salary as before under the Central sponsored scheme from a separate salary head of account. Earlier, the teachers were given their salary through a shared funding by the Central and state government in which the maximum amount was borne by the Central government. At that time, the teachers faced huge struggles for not getting their monthly salary in a timely manner, she added.
The teachers will not cooperate with the recent order issued by the director Education (S) and therefore, the order should be immediately revoked, she said.
Teachers protest in Thoubal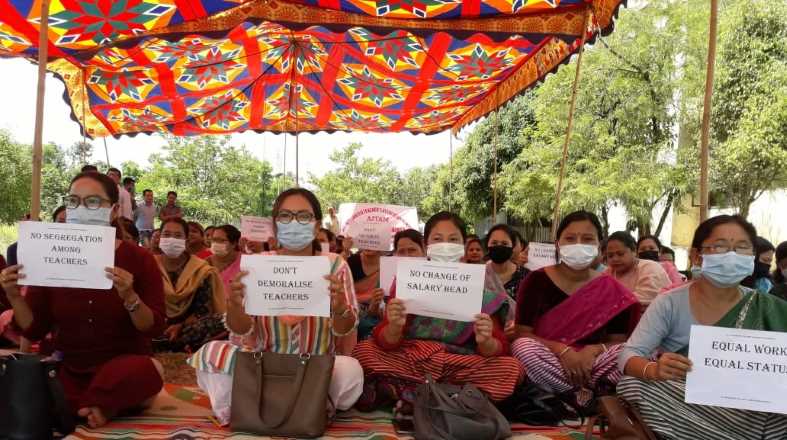 Advertisement
Meanwhile, Integrated Teachers of Thoubal district zone under the supervision of All Integrated Teachers' Association, Manipur (AITAM) in front of the ZEO office of Thoubal district on Friday demonstrated a sit-in protest condemning the order to change their salary head of account.
The integrated teachers of Thoubal district zone demonstrated the sit-in protest, condemning the order issued by the Education (S) department, government of Manipur to provide the salary for the integrated teachers from a new account head. The protesters informed that the protest will be held the following day as well.
Speaking on the event, Thoubal district zonal executive Bhani Paul urged the immediate attention of authorities concerned to take up immediate action on the demands of the integrated teachers and take up necessary action.
During the protest, the protesters displayed placards which read slogans such as 'Account Head Sinba Yaba Ngamloi' (No Change of Salary Head), 'Oja sing gi marak ta nakpak nakpak tanaba leingak na sinbiganu' (No Segregation Among Teachers) , 'Oja sing gi wakhal hantha hanganu' (Don't Demoralize Teachers).
Advertisement