The Saparmeina-Saikul road, which was the finest inter-district road connectivity in Kangpokpi district, has now become a threat to thousands commuters with its deplorable condition despite being an important road that serves as a lifeline to many.
The road is approximately 15 km long between Saparmeina and Ekou passing through Konghom area comprising more than 40 villages. It connects Kangpokpi district headquarters with Saikul sub-divisional headquarters and other parts of Saikul areas.
Despite its deplorable condition, the road still remains busy where all kinds of light vehicles to heavy vehicles are seen plying all through the day. The road also passes through an important tourism spot, the Eco Tourism Park at Thangal Surung.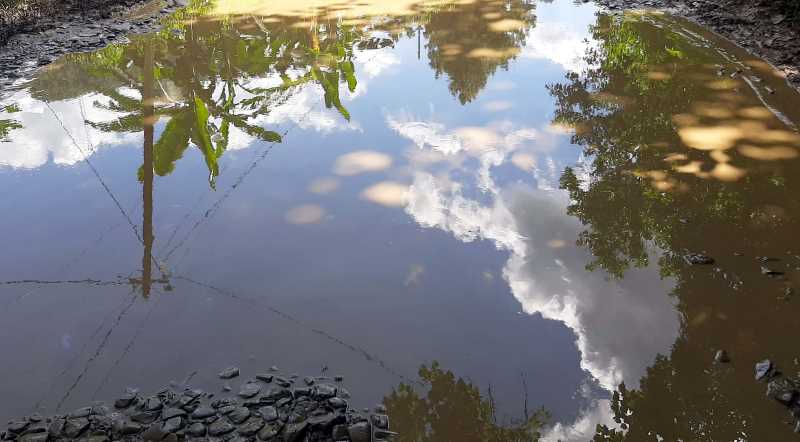 Advertisement
Water reflection in a pothole on Saparmeina-Saikul road (PHOTO: IFP)
Considering the plight of the people, the Kuki Inpi Saikul Gamkai (KISG) and Kuki Students' Organisation (KSO), Saikul had a joint inspection of the road on Saturday and has drawn the attention of the local MLA, concerned Public Works Department and the state government to repair the lifeline of thousands of people of Saikul area.
The inspection team led by president of KISG, Seimang Lupho witnessed severalf potholes in the entire road. Some of the potholes were so deep and large that it can keel over even a heavy vehicle plying along the road while some drivers were also seen making a safe passage by filling stone in the potholes to avoid any untoward incident.
Seimang said that the locals of Saikul and its surrounding have been pressing hard the CVOs of Saikul in connection with the pathetic road condition since the past few months as the organisation could no longer remain silent considering the ghoulish condition of the road.
Advertisement
"The road represents the perfect pictures of 'laissez-faire' attitude of the local MLA, concerned department and the state government. Therefore, we urged for immediate repair of the road within a week, and in case of failure to fulfil our demand, the local MLA, the concerned PWD and the state government shall be held responsible for any eventuality," said Seimang.
Meanwhile, executive member of BJP ST Morcha Manipur, L Tongkholen Khongsai, who is also the chief of L Loujol village situated near Saparmeina-Saikul road, has expressed his discontentment over the pathetic condition of Saparmeina-Saikul road and conveyed his solidarity with the people of the area over the hardships owing the road condition.
Emphasising the importance of Saparmeina-Saikul road, Tongkholen also said that the concerned department shall consider the plight of people seriously and initiate swift action in repairing the road before adding that he will also act on his capacity in pressurising the concerned department and the state government for smooth and hassle-free road.
Advertisement