Northeast
Samurou Killing: Will take strong action if facts not furnished within 48 hours, says JAC
The JAC formed against the killing of two men at Samurou in Imphal West said it will not accept the bodies until the relevant source of killing is furnished proactively.
Updated on 11 Jan 2022, 12:17 pm
Poll-related violence at Samurou, Imphal West (Photo: IFP)
A Joint Action Committee (JAC) formed against the killing of two men, including an active worker of state Agriculture Minister O Lukhoi, at Samurou in Imphal West has decided to take strong action if concerned officials fail to furnish facts of the killing within 48 hours with effect from 10 am Monday.
The two men were shot at by unidentified persons near Machu Cinema Hall at Samurou under Wangoi Police Station, along Mayai Lambi Road in Imphal West around 10 pm Sunday. The two were rushed to separate hospitals. While one identified as Abujam John succumbed to his injuries around 10.30 pm on Sunday at Advance Hospital, Sashkianta died around 5 am on Monday after undergoing an operation at Raj Medicity, police said.

Demanding justice for the two, the JAC was formed in an emergency meeting held at the complex of New Young Sporting Club, Samurou early Monday. The meeting unanimously resolved that the JAC will take up necessary action against the killing of Abujam John and Abujam Rishikanta alias Tomba.

It was also resolved that the JAC will not accept the bodies until the relevant source of killing is furnished proactively.

The meeting further resolved to demand Chief Minister N Biren Singh to open a police outpost at a feasible area in Samurou Municipal Council and fit modern devices like CCTV to prevent such crimes in the future.

The JAC resolved to launch further action if the facts of the killing are not furnished within 48 hours from 10 am of Monday. The bodies of the two deceased have been taken to RIMS Mortuary, police said, adding that they found three empty cases of 9 mm rounds from where the incident took place.
Meanwhile, as the reason for the killing is yet to be ascertained and the culprits remain at large, locals strongly protested against the killing by burning tryes and blocking traffic movement at Mayai Lambi road.

As told to the Imphal Free Press by John's wife Bimo, he left the house around 8.40 pm after dinner. After a while, she saw John and Sashikanta standing on the other side of Mayai Lambi road and having a conversation. Then, out of nowhere, a man of short height went towards them and she could hear gunshots fired three times. And the man fled immediately after, she said. As her husband called out, saying he had been shot, she rushed towards him, she added.

Sashikanta, who ran off after being shot, was found lying on an alley between houses some 60 metres away, police said.

John was an active worker of Agricultural Minister Lokhoi, while Sashikanta was a Havildar of IRB. Both are related, the sources said.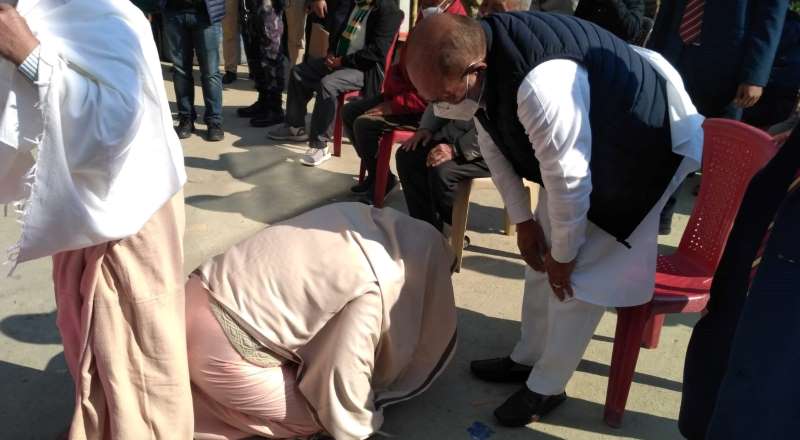 Condemning the incident, Manipur Chief Minister N Biren Singh along with Agriculture Minister O Lukhoi visited the victims' families on Monday morning to extend their condolences.

During the visit, Biren said that it was an attack on the BJP supporters and the government will not remain silent until the perpetrator is arrested, the chief minister added.

Lulkhoi, BJP intending candidate of Wangoi assembly constituency, said, "If there were enmities, they could have shot the persons in the arm or legs as a form of punishment. An opportunity must be given to them to make their clarifications at least. This was rather, a direct attack to the victims by the perpetrators".
First published:11 Jan 2022, 5:13 am
Tags: