Advertisement
The Zeliangrong Students Union (ZSUD) on Saturday held its 31st Freshers' Meet under the theme "Revisiting the ideas of Zeliangrong" at Dilli Hatt, Janakpuri in New Delhi.

The freshers' meet graced by Hill Area Committee Chairman (HAC), Manipur Dinganglung Gangmei and Naga Hoho Hoho general secretary K Elu Ndang as chief guest and guest of honour, respectively, were attended by hundreds of Zeliangrong people living in and around the national capital.

Addressing the event, HAC chairman and MLA Dinganglung Gangmei walked down the memory lane as a fresher in Delhi. He urged all freshers to set their priorities as they venture out for their career. He also exhorted the Zeliangrong seniors in Delhi to continue supporting and guiding their budding youths while urging all to be united.
Advertisement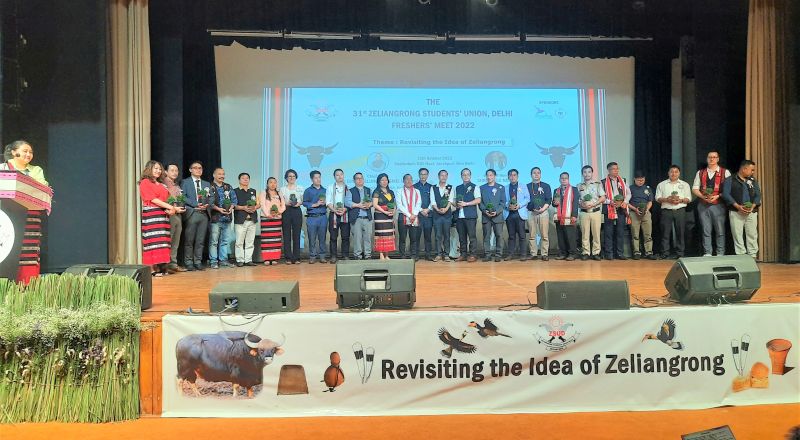 (PHOTO: IFP)

Also, addressing the event, guest of honour, K Elu Ndang spoke on the theme of the meet. The Naga Hoho general secretary called upon the Zeliangrong people to do away with the differences ailing the community while lamenting that the Zeme, Liangmei and Rongmei fail to accept one another. He called upon the Zeliangrong people to be united. "Let us all be the agents of change. Leave the differences and biases against each other, be it dialects or any reason, Let us all be bold enough to accept one another and resolve issues collectively," the Naga Hoho general secretary added.

In his presidential speech, ZSUD president Haineube Newme reiterated the union' commitment in catering to the needs of the Zeliangrong people in the capital city, especially the students community while acknowledging the efforts and sacrifices rendered by the senior leaders, elders and well-wishers.

Welcoming the freshers, ZSUD president said, "You should all be proud of yourself that you have made it to Delhi for whatever reason you may have come. And you should also be very proud that you  have a strong students' union with you that has been established and running since 31 years ago. We are all here to advance knowledge and growth, to promote understanding, and to serve the community".

The 31st ZSUD Freshers' Meet was attended by over 60 special guests. The event witnessed mesmerising performances and numbers from various artistes of the community, including James Riamei.

Meanwhile, Kuidalung and Aguisuiliu Ringkangmai were crowned Mr and Miss Fresher 2022, respectively.

 
Advertisement