Braving the scorching summer heat, hundreds of devotees wearing white traditional attire marked the last day of Kang festival called Kang Len or Rath Yatra as celebrated by the Hindus with the pulling of chariot at Govindajee Temple at the Palace Compund in Imphal East on Saturday.
To reduce the heat and cool the pathway for the devotees pulling the sacred chariot on bare foot, the Manipur Fire Service sprayed water on the path of Govindajee Kang at the Palace Compound.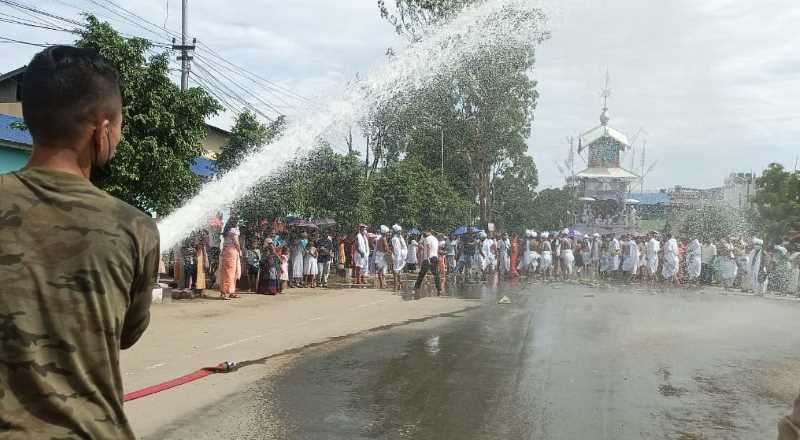 After performing a ritual at Lord Govindajee Temple, which is located next to the old palace, dieties of Lord Jaganath, Balabhadra and Subhadra were taken to the streets for "Kang chingba" (pulling of the chariot by the devotees).
Advertisement
The chariot, carrying the dieties, was beautifully decorated in elegant white.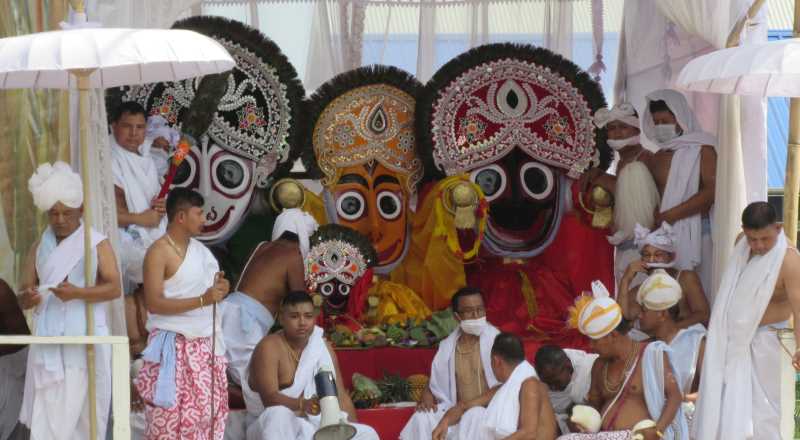 The festival usually starts from the second day of the fourth lunar calendar of "Engen" and continued till the tenth of the month which is celebrated as "Kanglen".
The ritual ceremony of Kanglen is similar to that of the celebration conducted on the first day.
Also Read: Religious fervour fills the air as Kang festival celebration in Manipur begins
During the process of Kang Chingba, devotees offered fruits, flowers and other edible items laid creatively along the path of the chariot while several other devotees pulled the chariot.
Advertisement
After leading the chariots from the Palace Gate, the chariots made a U-turn from MSFDS (Maniand returned to the initial place and later the three gods were placed inside the Govindajee temple.
Many small street vendors, selling toys and other items, were seen on both the roadside of the path of the Kang.
Govindajee Kang is considered as the largest Kang in the state and the second largest Kang celebration is conducted at ISKCON temple, Sangaiprou.
Similar process of ritual ceremony is also conducted as devotees pull the chariots and many devotees offered fruits, flowers and other edible items to the god.
Small different Kangs are also seen in various streets of Manipur where Hindus celebrated the festival by offering fruits, flowers and other edible items to lord Jaganath, Balabhadra and Subhadra.
Advertisement